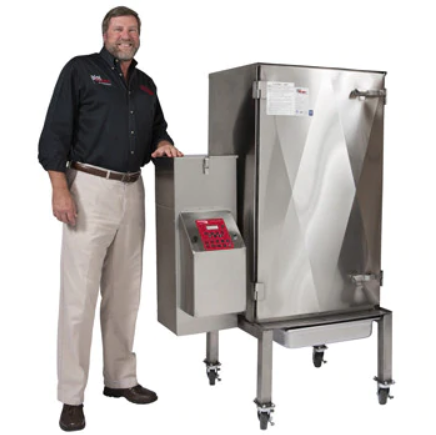 What is the Best Commercial Pellet Smoker In 2023?
You may not know it, but not all pellet smokers in the market are suitable for commercial use.
Running a food business requires versatility and durability, so it's natural to be extra picky when shopping for this kind of equipment.
Fortunately, our cooking experts were able to test top options in the market to let you know which pellet smoker you can rely on. 
Reviews of the Top Commercial Pellet Smokers 
1. Cookshack Fast Eddy's PG500
Key Features
• Cooking space: 784 square inches
• 
Hopper Capacity: 22 pounds
• 
Electronic Temp Control
• 
Stainless Steel
• 
Max Temp: 600 F
If you're in search of a pellet smoker that can withstand continuous cooking hours, then we're sure you'll find Cookshack PG500's stainless steel construction delightful.
You don't need to worry about its non-stop exposure to high temperatures because this griller-and smoker combo can resist heat and corrosion. 
It's also among the few smokers equipped with charbroiler technology. During the test, our resident chefs were impressed with its beginner-friendly digital controller. Thanks to this feature, we could prevent heat fluctuations that often dry the meat during the smoking process. 
Another feature that made Cookshack's PG500 a reliable commercial pellet smoker is its hopper capacity of 22 lbs.
It means that this unit can handle long cooking hours without sacrificing the consistency of the heat. 
Pros
• 
Durable and long-lasting construction
• 
High cooking and hopper capacity
• 
Affordable than other premium smokers
• 
Includes charbroiler technology
Cons
• 
Heavyweight pellet grill construction
• 
Requires regular cleaning for lasting usage
2. Cookshack Fast Eddys FEC100
Key Features
• 
Pellet consumption: 0.75 lbs/hour
• 
Higher-grade stainless steel
• 
Cooking area: 1564 sq. in. 
• 
Heat range: 140F to 400F
• 
Spin-Glas insulation
Not all pellet smokers can cater to massive food preps, but Cookshack FEC100 surely didn't disappoint with its 1564 square inches of cooking surface.
In fact, this unit can smoke approximately 24 chickens or 80 pounds of briskets per session. 
Unlike other regular brands, Cookshack uses a higher grade of stainless steel, so rest assured that it can withstand any harmful elements.
We also noticed that it consumes pellets at a fairly slow rate as well, with just 0.75 lbs per hour when set at 250 F. 
The racks and shelves of this unit are all removable, making it easy for our team to clean its surface for safe storage. 
Pros
• 
Best commercial pellet smoker for massive food preps
• 
Made out of a higher grade of stainless steel
• 
Fairly low wood pellet consummation
Cons
• 
Higher price range than typical smokers
3. Cookshack Fast Eddy's PG1000
Key Features
• 
Double-walled Steel Construction
• 
Spin-Glas Insulation
• 
Direct & Indirect Cooking Surface
• 
Consumption: 1.2 lbs/hour
• 
Temp Settings: 170F to 600F
Quality will always triumph over the price [1], but the Cookshack PG1000 can give you the best of both worlds.
With its 784 square inches of grilling and smoking area, our testers could whip various dishes in one go. 
At first glance, it may look like any other Cookshack pellet grill. However, we quickly noticed that it has direct and indirect zones allocated to the cooking style the user would want. Apart from that, it has a double-walled interior and exterior that can enhance heat retention and help save fuel. 
Pros
• 
Most budget-friendly option
• 
Fuel-saving and heat retention enhancement
• 
Includes indirect and direct cooking zones
Cons
• 
Heavy product shipping weight
Commercial Pellet Smokers Buyer's Guide 
Size and Design
Commercial pellet smokers often come with massive construction and heavy shipping weight. If you're going to get one for your kitchen, our cooking experts advise you to consider your available space.
Given that these options are full-sized models, you may need to measure accurately to avoid problems during installation. You should also check if you need a freestanding or built-in smoker because these variations differ in design and construction. 
Material Quality and Durability
Extensive exposure to heat is among the problems you'll face when using commercial pellet smokers. Because of this, our team urges you to check if your cookware is made of durable materials like stainless steel. Double-walled cooking chambers are also great in handling heat retention. 
Cooking Performance and Settings 
When smoking meat, the heat should be distributed evenly for a good smoky flavor. You can achieve this if your pellet smoker has a great fan system that circulates the heat inside the cooking chamber. Many manufacturers add this feature to newly released pellet smokers, so we advise you to check them out. 
Our Top Pick For a Commercial Pellet Smoker:
Cookshack Fast Eddy's PG500
Using a pellet smoker doesn't have to be overwhelming. With that being said, our kitchen experts picked Cookshack Fast Eddy's PG500 out of the best commercial pellet smokers on this list. With its beginner-friendly digital controls and ample cooking space, we're confident that this unit can fulfill all your meat cooking needs.