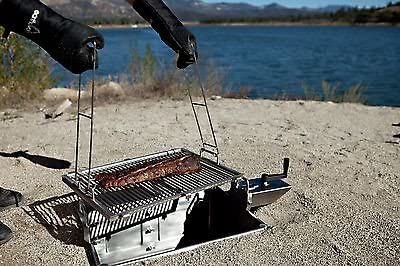 What is the Best Commercial Rotisserie Smoker? (2023 Update)
If you're cooking large meat pieces, one of the best ways to handle them is through rotisserie or split-roasting.
However, did you know that not all smokers have a built-in rotisserie feature? In fact, most of them come as an attachment.
But worry not, because our experts are here to test some options to see if they're worth buying for your business or not.
Reviews of the Top Commercial Rotisserie Smokers 
1. Earth Oven Pro Rotisserie Smoker
Key Features
• Open bottom construction
• 304-grade stainless steel
• Power source: charcoal/pellets/fuel
• Rod & fork accessories
• Easy assembly
For business owners who sells food on a large-scale basis, you'll need cooking equipment that's versatile enough to handle different meat prep styles. Earth Oven Pro Rotisserie Smoker has all the authentic features to cater to your grilling, split-roasting, and smoking requirements. 
Our resident chef put five stars on this unit for its open bottom design. So even though this is a commercial rotisserie smoker, it's still easy to assemble and could pass up as a travel-ready model. 
On top of that, it has an insulated construction, so the heat retention during the cooking sessions is highly consistent. Its 304-grade stainless steel material also adds to the durability of this product. 
Pros
• 
Highly durable and portable
• 
Can cater to different cooking methods
• 
Efficient design and easy assembly
• 
Include rod and fork accessories
Cons
• 
Heavier than portable smokers
2. Charotis Charcoal Split Roaster
Key Features
• 304 stainless steel wire (6mm)
• Motor speed: 4 rpm-s
• Roaster hood
• Four cooking grids
• Removable charcoal pan
The best commercial rotisserie smokers aren't always cheap. Sometimes, they come in premium models like Charotis Charcoal Split Roaster. Although a bit high on the price tag, this unit's cooking capacity blew us away. It can split-roast 120 pounds of chickens, turkeys, or any kind of meat without a problem. 
The purchase includes stainless steel forks and brackets that made our rotisserie experience a lot easier. With a 1000 square inches roasting area, our testers could roast massive amounts of meats simultaneously. 
Another feature that could assist your cooking sessions is its removable charcoal pan. You may not know it, but this unit is among the few equipped with stainless steel charcoal pan. 
Pros
• 
It has an extensive cooking capacity
• 
Equipped with stainless steel pan
• 
Standard rotisserie accessories included
• 
Can cook low temp and slow rate
Cons
• 
Higher price than typical split-roasters
• 
Additional fees for heavy shipping weight
Commercial Rotisserie Smokers Buyer's Guide 
Grilling Area Size 
Before you go ahead and buy a rotisserie smoker, you should know that it comes in different sizes. Our resident chefs recommend assessing your commercial cooking needs first prior to any purchase. 
The smaller rotisserie cookwares are often more affordable than most. However, we only encourage you to buy this if you have a small kitchen for your business. But if you have an average rate of orders coming in, going for standard smokers at 15-inches of cooking space is the more logical thing to do. 
Although standard models aren't suitable for countertop set-up, they can be used regularly for roasting chicken and small meat sizes. 
And then there's the uncommon vertical rotisserie smoker. If you want your meat to have a less fatty taste, these types of smokers are designed to drain fat straight to its allocated compartment. The meat inside this chamber doesn't need to be rotated because it heats the surface at a 360-degree angle. 
And finally, the commercial-grade rotisserie. These options are often bigger in construction than usual smokers. Because of this, you can roast multiple pieces of meat in one go. You can consider this the best cookware to buy if you're running a full-scale restaurant. 
Cooking Performance 
The power source of your smoke roaster is a crucial factor that highly affects your unit's cooking performance. Commercial rotisserie smokers would often require fuel, gas, propane, electricity, or even pellets to start operating, so it's only natural for newbies to be confused by this.
Apart from the power source, we also urge you to check the temperature range of your smoker. Most commercial-grade cooking equipment can reach up to 700 degrees. With that measurement, rest assured that you can cater to different cooking methods. 
Material Quality and Durability 
As you may have noticed the models our testers selected, most smoker options are made out of stainless steel. However, did you know that its durability still depends on steel grade [1] and surface finish?
The 304-grade stainless steel variation is widely used because its resistant nature is suitable for the building environment where most restaurants are located. 
Our Top Pick For a Commercial Rotisserie Smoker:
Earth Oven Pro 
There aren't many smokers with rotisserie features, but Earth Oven Pro Rotisserie Smoker certainly proved itself with its reliable functions. We chose this unit as the best commercial rotisserie smoker because it's capable of different cooking methods. On top of that, it has an easy assembly that could ease any business owner's cooking experience.