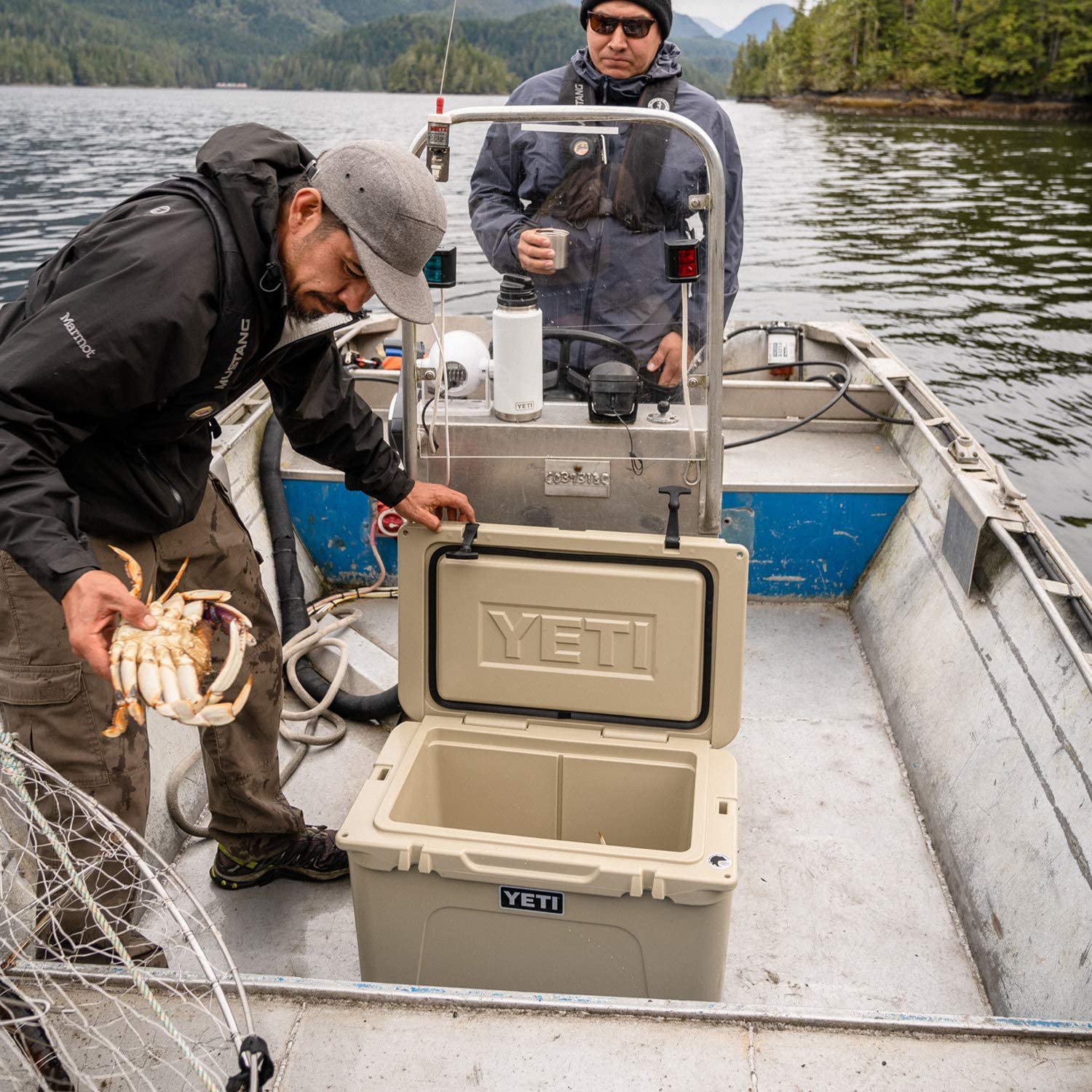 What is the Best Cooler for Resting Meat? (Briskets, Pork Shoulder, & More)
Are you going camping or boating and looking for a cooler for resting meat after it's cooked? Choosing a bad cooler can result in tough, dry meat that can ruin your highly anticipated meal. 
To avoid this, here are the best coolers, perfect for meats such as pork shoulders and briskets.
Reviews of the Top Coolers for Resting Meat
1. YETI Tundra 45 Cooler
The heavy-duty YETI Tundra 45 Cooler features a three-inch thick interior made of durable commercial-grade polyurethane foam insulation. 
This cooler measures 25.5in. x 16in. x 15.5in. and weighs just about 10.9lbs. It will hold 45 quarts of your smoked meat, keeping the temperature for up to 7 hours.
Because it's highly portable, you can take this cooler along with you wherever go. You won't worry about durability because of its Rotomolded Construction, which makes the cooler not only fully armored but also almost indestructible.
Pros
• Ultra-durable
• 
Portable and lightweight
• 
It comes in a good size
• 
It comes with an additional basket
• 
Rotomolded Construction
Cons
• 
It has no release valve or metal hasps
• 
It can't hold ice for more than two days
2. Igloo 52 Qt BMX Cooler
Igloo 52 Qt BMX is also lightweight but heavier and more spacious (26.2in. x 16.41in. x 16.06in.) than the Coleman 24-can cooler option on this list. It can hold 51 quarts of your smoked meat.
It also provides a much more efficient output and a higher retention rate as it can hold ice for about five days. It comes in heavy-duty, blow-molded construction and is made of high-quality polypropylene material.
It is very durable, rust-resistant, and won't degrade with use. Moreso, the cooler has a reinforced base for increased strength and maximum protection.
Rubber latches ensure that the lids inside of the cooler, as well as your resting meat, stay safe. If you want to save some money but want a cooler with a solid lifespan for resting meat, go for Igloo.
Pros
• 
Very strong and durable
• 
Features rubber-made latches
• 
It has much more efficient output and can hold ice for longer
• 
It features UV inhibitors for the utmost safety
Cons
• 
No gasket between the cooler and the cover 
• 
It may not be a good choice if you need a cooler to travel with
3. Coleman 24-Can Party Stacker Portable Cooler
The Coleman 24-can cooler isn't only portable but it's also lightweight (0.04 kg) and has smaller dimensions (13.41in. x 22.05in. x 8.35in.). It features a durable, non-toxic, and environmentally-friendly insulation material that emits less CO2 into the environment but keeps your meat heated.
This cooler comes with a small chamber width of 9 inches, which can rest about 12 to 14 quarts of brisket chunks at a time. To rest your meat in this cooler, simply place your meat and keep an additional cover, such as a towel or aluminum foil over the meat inside the chamber, then close the lid.
Pros
• 
Made with environmentally-friendly materials
• 
It can keep your meat warm for hours
Cons
• 
All the cold air can escape quickly from this cooler
• 
Temperature retention is low compared to other more expensive coolers
Coolers for Resting Meat Buyer's Guide
Choosing the best cooler for resting meat isn't always an easy task. You've got to consider several things before making a choice, which include the following.
Material Quality and Durability
Most people look for a cooler that can last a long time. The material quality of the cooler determines its durability. The best coolers for resting meat should be designed to withhold a significant amount of weight and stress. Hence, it should be made with high-quality and highly durable material. 
Heat Retention
Make sure to choose a cooler with good insulation as it would be a cooler that can keep your meat heated for as long as possible. This will allow you to rest your meat for a longer time if needed.
FAQ
1. How long can you rest meat in a cooler?
You can rest meat in a cooler for up to 10 hours. This is if you fill up the remaining airspace in the cooler with towels, aluminum foils, or blankets to prevent the temperature from dipping below 140°F.
2. How long should a brisket rest in a cooler?
A brisket should rest in a cooler for at least 30 minutes before slicing. 
Our Top Pick For a Cooler For Resting Meat: 
Yeti Tundra 45 Cooler
The best cooler for resting meat is the YETI Tundra 45 Cooler. Its Rotomolded Construction makes it superior to the other coolers on our list. It is more spacious and durable so you can rest large quantities of meat at a time, and yet is portable enough for you to bring with you.