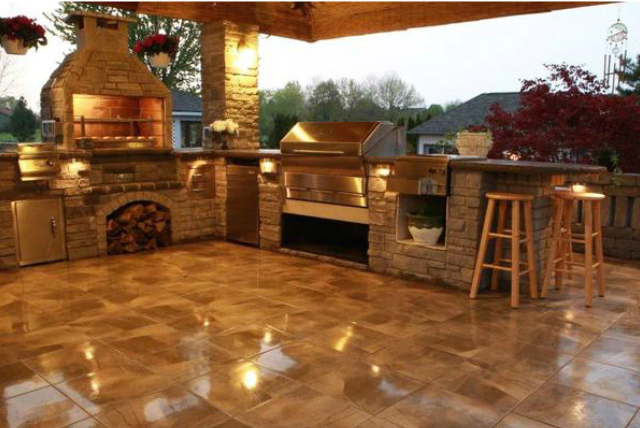 The 5 Best Built-In Pellet Grills in 2023 | Expert Overview
Admit it or not, a good pellet grill can give you a certain grilling experience that most charcoal and gas grills cannot provide. But apart from its excellent cooking results and distinct smoke flavor, what other essential factors should you consider when buying a built-in pellet grill? 
Join our grill experts as we explore different outdoor cooking options popular in the market today. 
Overview of the Top Built-In Pellet Grills 
1. Memphis ITC3 Pro Built In Pellet Grill
• Direct & indirect heat modes
• Cooking area: 834 square inches
• Open flame insert & meat probe
• Dual pellet hopper: 18 lbs
• Intelligent temperature control
Memphis grills are known for their high pricing, but the Memphis-ITC3 Pro Built-in proved that it could give next-level grilling experience despite being priced a bit lower than most. Thanks to its cooking surface of 834 square inches, our testers were able to grill the perfect steak and other types of meat at the same time. 
Like most built-in pellet smokers offered by Memphis grill, this pellet grill comes with an optional grate. With this feature, you can get the perfect sear marks on your beef brisket or any dish during the cooking process. 
We also find this built-in pellet grill relatively beginner-friendly as it offers settings for indirect and direct flame grilling. In addition to that, pellet grills under this brand are usually made in stainless steel so expect them to be long lasting and meant for easy cleaning. 
Besides the pellet grill control panel that can be connected via WiFi, its temperature probes made the grilling more convenient than using a charcoal grill. 
Pros
• Include indirect and direct flame configuration
• Best pellet grill out of Memphis grills selection
• Double-wall stainless steel grill body
• High-grade gasket for heat retention
• Comes with grill temperature probes 
• Affordable than other Memphis grills
Cons
• May require large space for installation
• Incurs additional shipping charges
2. Memphis ITC3 Elite Built-In Pellet Grill
Key Features
• Cooking area: 1252 square inches
• 
Set temperature: 180 to 700° F
• 
Heavy-duty stainless steel material
• 
24 lbs hopper capacity
• Temperature control panel
If you're the kind of shopper with no reservations about high price tags, then Memphis grills are the best option you can consider. The Memphis Elite ITC3  blew our cooking experts away with its massive 1252 square inches cooking area. 
As we continued to test this pellet grill, the first thing we inspected was its grill body which was double-walled with 304 stainless steel. As you know, in any grilling experience, one of the essential features of every cookware is its durability—and this built-in unit definitely has it. 
The highest temperature this wood pellet grill can reach is 700 degrees Fahrenheit. And because it's manufactured by Memphis grills, rest assured that you can control its internal temperatures via the free Memphis mobile app. 
Unlike most gas grills, you can simultaneously cook in this grill without the hassle of inaccurate temperature measurements. 
Pros
• Stainless steel and double-walled construction
• Includes interchangeable burn pot grates
• High hopper capacity & wide cooking area
• Equipped with a convection speed fan
Cons
• More expensive than other built-in pellet grills
• Bigger construction than most pellet grills
3. Memphis Grills Beale Street Built-in Pellet Grill
In our attempt to find a more affordable alternative, our grilling pros bumped into Memphis Grills Beale Street Built-in Pellet Grill. While it's obviously smaller than the previous ones we tested, this model was nothing short of durability with its 430 stainless steel design. 
During the grilling test, we also enjoyed its WiFi control capabilities that are uncommon in typical built-in pellet grills. We also didn't have a hard time regulating the heat because this Memphis beauty has four convection fans. With this feature, the pellet grill can maintain heat circulation throughout the cooking session.
And provided that this is a built-in pellet grill from a reputable brand, we weren't too surprised upon knowing that its pellet hopper can carry about 12 pounds of chips. 
It's highly suitable for high temp searing thanks to the direct flame insert equipped into it. If you need to smoke meat at low temperatures, this is the pellet grill you should consider. 
Pros
• Preferred built-in pellet grill for low heat cooking
• Highly suitable for a modern kitchen
• Has a high capacity pellet grill hopper
• Can withstand harsh weather conditions
• Innovative cooking chamber design
Cons
• Pellet grill availability may vary
• Smaller than other built-in pellet grills
4. Coyote 36 Inch Built-In Pellet Grill
In any outdoor grilling session, having a built-in pellet grill with a dual fan and grease pan can be especially reassuring. This is the reason why we didn't hesitate to include Coyote 36 Inch Built-In Pellet Grill in this list. 
Not only does it have an auto-drop pellet feeding system, but this pellet grill also has a Versa-rack feature fit for multiple cooking surfaces. To make our grilling time even more convenient, we tried to control the pellet grill via its digital touch panel. 
Its spring-assist grill hood also reassured us that there wouldn't be any undesired accidents when we started to close the lid. Upon buying these pellet grills, new users will find smoke and sear grates included in their purchase. 
Given that it can reach up to 700 degrees and carry a 15-pound load of pellets, these features show that Coyote 36 Inch Built-In Pellet Grill can handle a wide variety of meat grilling and smoking techniques. 
Pros
• Suitable for grilling, searing, roasting, and smoking
• Affordable but premium built-in pellet grills
• Capable of fitting different cooking surfaces
• Highly accurate temperature control
• Very compatible with any kinds of pellets
Cons
• Pellet grill model not always available 
• Heavy-weight kitchen equipment
5. Coyote 28-Inch Built-in Pellet Grill 
When shopping for a built-in pellet grill to put in your outdoor kitchen, you'll immediately notice that most of them are not that budget-friendly. This is why our testers were immediately in awe upon discovering the Coyote 28" Built In Pellet Grill. 
Not only does it have a fairly reasonable price, but this built-in grill and smoker combo have a big cooking space that allows its users to serve in a large capacity. On top of that, it has stainless steel construction for lasting usage even in a high heat setting. 
It has an intelligent temperature control that reaches up to 650 degrees Fahrenheit. You can set your desired temperature electronically as this built-in pellet grill features a fully automated grill control panel for consistent cooking. 
Unlike a typical charcoal grill, high-quality wood pellet grills like Coyote 36-Inch Built-in Pellet Grill can be equipped with meat probe sliders and warming drawers. And did we tell you that its hopper lid can carry up to 12 lbs of wood pellets? With that level of hopper capacity, it can handle approximately eight hours of smoking. 
Pros
• Big cooking space and high hopper capacity
• Durable stainless steel cooking area
• Up to 650 degrees internal temperature
• Affordable and user-friendly pellet cookers
• Includes temperature probes and warmers
• Best built-in pellet grill for slow smoking
Cons
• Has heavy shipping weight
• Works best with food-grade pellets
Built-In Pellet Grill Buyer's Guide
Not all built-in pellet grills are the same, so you must be extra careful when selecting one for your outdoor kitchen. If you haven't made your choice yet from the options we suggested above, here are a few pellet grill pointers you must consider. 
Design and Build Quality
What material is your built-in pellet grill made of? This question could be the pivotal factor in determining how long your cooking equipment can last. It's not rocket science that any cookware in your open kitchen needs to be durable, so our expert advice is to buy ones made out of stainless steel. 
And although you'll be leaving your built-in pellet grills tucked and covered outside, cold and hot weather conditions could potentially damage them in the long run. Lucky for you, stainless steel can resist high and low temperatures very well [1]. It also has corrosion resistance elements, so it rarely gets affected by overbearing pressure or elements. 
Another reason why the best built-in pellet grills are built with stainless steel is their aesthetically pleasing appeal. Many kitchen equipment with this material come in different kinds of finishes, so you'd have bottomless choices to choose from. 
The cleanability of built-in pellet grills made of stainless steel is also worth considering. It's very low maintenance, making it less likely to break down unexpectedly. 
You may think that stainless steel is quite cheap, but in reality, these materials come in different grades. Most built-in pellet grills made with durable design can be especially pricey, but rest assured that they'll last longer than typical cooking chambers. After all, equipment with quality builds will always save you money in the long run.
Apart from the material, it's also crucial to consider buying a pellet grill with the right grilling space. These kitchenwares are made differently. That's why this feature can be especially confusing for newbie cooks. 
If you're hosting big BBQ parties and are required to serve many people on a frequent basis, then it's only reasonable to get a pellet grill with a big cooking area. We recommend going for smaller ones for a casual grill experience and intimate family gatherings. This advice is especially true if you have limited space in the kitchen.
Hopper Capacity 
The main fuel source of pellet grills is the wood chips from the hopper, so it's only natural that you look out for this feature when you go out to shop. If you're a professional griller like us, you'd know that the capacity of your hopper mainly dictates how long you can leave your pellet grill without having to refill the hopper as the meat continue to cook.
Some pellet grills in the market have an automatic feed system, which could be beneficial to you if you're doing other food preps while grilling. 
We advise you to read the manual to see if there are specific kinds of pellets required for the grill. Although the majority of pellet grills can be paired with any wood chips, there are ones that your unit may process better. 
If you want a true smoky flavor to your dishes, we urge you only to buy pellets that are 100% hardwood with no added binders and preservatives. You have to be cautious in the mixture of your wood pellets as some lumber and agents can cause harm when inhaled or ingested.   
Performance
Your pellet grill's performance can be affected by many factors, and that includes the weather. As you may have already known, the common problem of outdated pellet grills is their inability to maintain heat in cold environments. Fortunately, most pellet grill options in the market could work through snowy conditions. 
There are also pellet grills that would consume a wasteful amount of pellets to keep the heat going, which could especially affect your griller's performance. For this, the best you can do is check the insulation settings of your pellet grill. 
If you already bought a pellet grill and you find it dwindling in performance, you can opt to buy an insulation blanket. With this extra feature, the heat temperature in the cooking chamber can be sustained at such consistent levels, and your pellet grill wouldn't consume too many pellets from the hopper. 
Despite being fuelled by wood chips, pellet grills actually run using electricity. Most of the time, its performance can be affected by the power supply in its system. So the best you can do is plug it directly into an electrical outlet.  However, keep in mind that the electrical requirement of a pellet grill varies per model and manufacturer. 
Temperature Range
For any kind of food you intend to cook on the pellet grill, there's a certain heat temperature you need to maintain. For this reason, buyers of this kitchen equipment must be extra picky on the temperature range of the unit they'll purchase. 
For example, poultry meat like chicken, turkey, or goose should all be grilled at least 165 degrees depending on the kind of doneness and texture you desire. Remember that each pellet grill unit in the market has its specific temperature range. 
While some may reach up to 700 degrees Fahrenheit, your pellet grill's maximum heat range also relies on its kind of burn pot grates. Another important reason why we recommend buying grills with a wide temperature range is their versatility to whip different types of dishes. If you're a frequent grill cook, then you should put this on top of your consideration.  
Controls
In each pellet grill in the market, you'll notice that there's a panel that allows users to control every feature of the griller. Older pellet grill models tend to have Non-PID controllers. For this, you basically can only turn the cooking chamber temperature in three heat settings; high, medium, or low. 
The difference between these three heat settings is around 30 to 40 degrees, so pellet grill beginners may find this especially hard to use. But despite that, models with this heat control configuration are still popular in the market. If you have this kind of smoker, we recommend getting a thermometer to get a better heat measurement during the cooking process. 
On the other hand, what our resident cooks can recommend more are the grills with proportional integral derivative controllers. Through the controls provided by this feature, users can set the fan speed, pellet rate, and consistent temperature of the grill. 
Some of the best built-in pellet smokers have this function because it's highly desirable for meats that require slow cooking. If your cooking chamber runs with a variable speed fan, a PID controller must come with it to work appropriately. 
Connectivity Options
Every modern home requires kitchen equipment that can be navigated through your fingertips. Just when you think controlling heat is the most helpful feature manufacturers can think of,  comes pellet grill models with Wi-Fi capabilities and a mobile app controller. 
In a world where everything transforms for convenience, these grills give busy and tech-savvy users like you a chance to prepare perfectly grilled meat through the tip of your fingers. Although some may argue that it was an unnecessary feature for grillers, our team maintains that it makes cooking a lot more efficient. 
A unit may not need many connectivity options to become the best built-in pellet grill smoker, but having a griller with this capability can help a lot if you have other things going on. These grill features are called PID-plus interfaces. It can be seen in high-end models, and they can be relatively high in pricing. 
Additional Features
During testing, one of the most notable features that we found really helpful is the automatic pellet feed system. Given that pellets are the ones that fuel your grill, it's only natural to keep an eye on them. However, this task can be a bit overlooked most of the time. 
As you know, once the pellets run out, the heat emerging from the grill will also fade out. And this sudden occurrence can affect the flavor of the dish you're preparing. To avoid this incident,  the manufacturers thought of a system that could detect when the pellet feed is running out. 
Through this procedure, you can maintain consistent heat all the way through the end of your grilling session. 
Additionally, grillers with spring assist hood are also a pure joy to have. As a griller, all of us are aware of how careful we need to be when opening and closing the grill lid. Thanks to this hood assistance, our testers were able to do that at ease, which is why we highly recommend models with such features. 
One additional feature that can't be excluded for the best built-in pellet smoker is its integrated fan system. Professional grillers would prefer cooking chambers with this function because they spread the heat evenly throughout the grilling area. Models with a dual fan system also allow your griller to reach higher temperature levels. 
Some grillers also include interior lighting to assist you further in your grilling adventure. It can be an additional safety feature, especially if you're cooking at night. There are models that come with LED portlight in the meat probe to give users more visibility. 
Besides the panel that can control heat, it'll also make your life easier if your purchase comes with temperature probes. Although you can measure the heat within the cooking chamber, knowing the exact meat temp is one of the most effective grilling tricks. With meat probes, you'll be able to tell when the dish is done according to the doneness you desire. 
And, of course, the best built-in pellet griller will never be complete without cooking modes. Although this feature is mostly found in models in a higher price spectrum, you can select a certain setting when using your pellet grill. 
There's the searing, roasting, smoking, and other modes that'll help even the most inexperienced cooks to achieve the dish they wish to prepare. 
Price and Warranty 
As you scroll through our recommendations, you'll immediately notice that the best built-in pellet grillers aren't always affordable. Most of them are priced over a thousand dollars for premium features like a wide grilling area, heat control settings, reliable fan system, and many more. 
Although it can be enticing to buy a pellet grill at a lower price, keep in mind that these options don't have a high price tag for no reason. 
They're made from durable materials like corrosion-resistant stainless steel. You'll need this type of equipment, especially because your open kitchen is exposed to harsh weather conditions and damaging elements. 
The additional features we listed above not only add efficiency and convenience to your cooking but also add to the price range of the unit. 
While we don't discourage you from buying cheaper products, it's best to consider which model will save you more money and time in the longest time. 
As for the warranty, many of these manufacturers offer generous perks to their customers. Some brands even give a warranty on ignition systems and valves, just as long as you read the terms and conditions. Some companies won't grant your warranty request if the grill unit has rust or burns. 
These perks could keep you reassured, but remember that you wouldn't enjoy these perks if you didn't buy the grill directly from their official store or authorized sellers. Our kitchen experts urge you to double-check everything before clicking the button to buy any equipment for cooking. 
Customer Support
What's the use of the best built-in pellet griller in the market if its manufacturer can't be reached when a technical issue comes up? This dilemma is crucial for any modern kitchen equipment with a warranty. 
Given that these products are expected to make our cooking session more efficient and comfortable, the sudden breakdown may cause little distress. So before you go and buy a griller, ensure that the company you're buying from has some reliable customer support team to assist your every concern. 
If you have the time, check the feedback of previous buyers, and from there, you'll be able to assess if they're appropriately assisted with their concerns. 
Benefits of a Built-In Pellet Grill
The main perk of having a built-in pellet grill is its ability to maintain consistent heat. As you may know, controlling the heat is one of the essential parts of cooking. Grills with auto-feeding systems keep the pellet chips at the right level so that the heat in the cooking chamber remains the same. 
And then, there's also the fan system integrated into most models. Typical grillers don't have this, so the heat within the cooking chamber is often uneven. 
But no problems like these would arise in pellet grills. Using this type of kitchenware also saves you time as they're easier to heat than gas or charcoal grills. 
It's a no-brainer that pellet grillers provide a better smoky flavor than its alternative grilling options. The main reason is it allows users to use different wood pellet options to suit the taste they aim to achieve. If the griller manual allows you to, you can experiment and mix different types of woodchips to give your meat some extra savory kick.
And because they're technology-centered with heat settings and pellet feed systems, newbie users wouldn't have any problems using them. In fact, newer models would allow them to control the grill through a mobile app. 
Having a wide-range temperature capability also adds to the advantage of a built-in pellet grill. Some manufacturers integrated features in their units to ensure that they fit low and slow cooking techniques. On top of that, some grills can even reach a high-temperature setting that's perfect for searing. 
FAQ 
Does Traeger make a built-in grill? 
Yes, Traeger does make built-in grills. Their pellet grill selections are convertible from stand-alone to built-in. There is no need for alteration when installing them because it has the design to fit the kitchen layout. However, do ensure that the grill you bought fits perfectly into your allocated space. 
Our Top Pick For a Built-In Pellet Grill: Memphis ITC3 Pro
Out of all the incredible options we tested, our resident chefs selected the Memphis Pro ITC3 as the best built-in pellet grill on this list. Not only does it have reasonable pricing that suits new users, but it also features a high hopper carrying capacity of 18 lbs. Its durable structure and high level heat settings are also beginner-friendly.