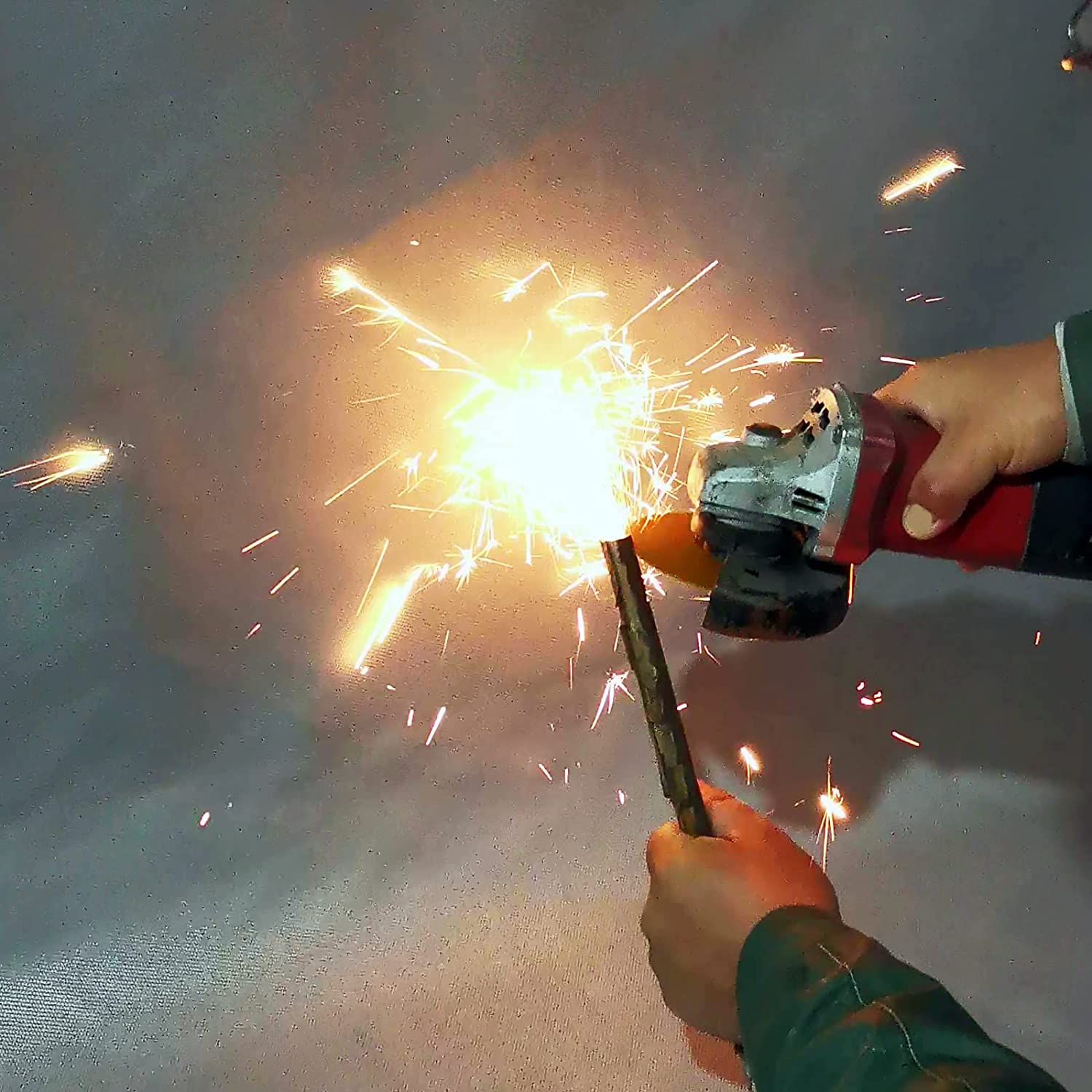 What is the Best Welding Blanket for a Smoker? (2023)
It doesn't matter if your pellet smoker is made out of heat-resistant material. In the cold season, any outdoor cooking equipment requires an extra layer of protection to avoid potential damage.
So if you don't want your high-quality smoker to be rendered useless after the winter, here are some of the most reliable welding blanket options tested and ranked by our cooking experts.  
Reviews of the Top Welding Blankets for a Smoker
1. Steiner 316-4X6 Welding Blanket
Key Features
• Melt temperature rating: 1800F
• Carbonized fiber fabric
• Compliance: FM approved
• Heat resistant material
• Lightweight
Using a pellet grill or smoker requires cooking times upwards a few hours, so you need a reliable welding blanket like Steiner 316-4X6 to keep the heat inside. Lucky for us, this heat-resistant fabric has a working temperature of 1800 degrees which helps with temperature consistency during cold weather. 
Apart from being able to resist heat and low temperatures, this insulation blanket has a lightweight design for easy hanging. Our resident chefs also find this fabric flexible, making it easier to use for thermal protection. 
There is no need to move your smokers because this welding blanket acts as a protective layer, shielding the unit from slags, sparks, and spatters.
Pros 
• 
Lightweight and flexible 
• 
Suitable for winter cooking
• 
Has high working temperature
• 
Great heat-resistant properties
Cons
• 
More expensive than other welding blankets
• 
May cause skin irritation while cleaning
2. The Felt Store Welding Blanket
Key Features
• Scratch-free material
• 
Temperature rating: 1800F
• 
Tear-resistant carbon fiber
• 
Thickness: 3mm
• 
Tight weaving pattern
Another smoker insulation blanket that can very well withstand high temperatures is the Felt Store Welding Blanket. One of the reasons we included this option in the list is its working temperature rating of 1800 degrees Fahrenheit. 
This fabric is the best welding blanket for a smoker if you want to insulate the heat under your stove properly. Since it's not electrically conductive and has a scratch-free texture, our testers were able to ensure that it wouldn't damage the fragile surface of any smoker. 
The weaving pattern of these welding blankets also makes the clothing flexible. And because it's made out of precursor carbon fiber, users can expect this fabric to resist tearing. 
Pros 
• 
It has a tear-resistant weaving pattern
• 
Capable of handling low and high temperatures
• 
Great protection for the smoker's upper surface  
Cons
• 
Not suitable for heavy sparks
• 
Not for long high temp exposures
3. HANSWAY Fiberglass Welding Blanket
Key Features
• Fiberglass cloth material
• 
Vertical shield
• 
Reflective temperature: 1000F
• 
Radiant heat: 2000F
• 
Size: 18" X 24" X 1/4''
Welding blankets made of high-quality fiberglass material are often pricey, but surprisingly, HANSWAY Fiberglass Welding Blanket isn't. 
Given its reliable heat-resistant fiberglass fabric, our testers were sure that it could serve as a great insulation blanket for your smoker. You may not know it, but a fiberglass material can withstand not only high heat but also grease, dirt, and oil spills. 
Among the welding blankets for smokers we tried, this option is the most suitable for vertical surfaces. It can handle a reflective temperature of 1000F and radiant temp of 2000F even in cold weather. This fiberglass blanket also exhibits efficiency for heating and cooling stove surfaces. 
Pros 
• 
Budget-friendly fiberglass blanket for smokers
• 
More durability than typical welding blankets
• 
Perfect blanket option for winter season
• 
Includes multiples usages
Cons
• 
Not for extensive heat resistance
• 
Blanket availability may vary
4. FLASLD Silicone Coated Welding Blanket
When shopping for the best welding blanket for smoker grills, it's crucial to find a material that's safe to touch and inhale. Fortunately for our team, we bumped into FLASLD Silicone Coated Welding Blanket. 
Unlike other welding blankets, its fiberglass material is coated with liquid silicone. Because of this element, this clothing has fewer chances of irritating your skin. On top of that, it can handle the constant temperature increases of your smoker for up to 1100 degrees Fahrenheit. 
Besides heat insulation, it's also a fire retardant blanket. We didn't have any problems when placing the fabric under the fire pit.  In fact, this welding blanket can help protect your carpet or lawn. 
Pros 
• 
Fire and flame retardant material
• 
Impressive melting point range
• 
Best blankets for multiple usages
• 
Heavy-duty insulation blanket
Cons
• 
Moderately higher in price
• 
Velcro tabs sold separately
5. Tillman Heavy Duty Welding Blanket
If you want a welding blanket for smoker grills that's easy to hook, our resident cooking experts recommend Tillman Heavy Duty Welding Blanket. It has heavy-duty brass grommets that secure the fabric to the surface of your cookware. 
Besides brass grommets, our team also put five stars on this fiberglass cloth 1200F melt rating and 1700F for vertical planes. So even if your smoker or wood railing gets exposed to molten metal spurs, stains and damages wouldn't be part of your worries. 
Buyers of this heavy-duty clothing can also be assured of extra durability as its borders are hemmed. 
Pros 
• 
It features sturdy brass grommets
• 
Able to withstand high temperatures
• 
Great smoker insulation capabilities
• 
Available in a variety of sizes
Cons
• 
Bigger fiberglass blankets may cost higher
• 
Cutting blankets may cause unraveling
6. ABN Heavy-Duty Fiberglass Fire Retardant Blanket
Thermal protection capabilities are crucial when dealing with smokers with a high-temperature range. So it did not surprise us when we found out that ABN Heavy-Duty Fiberglass Blankets are 100% flame retardant. 
At first glance, our testers could already tell that these fiberglass blankets are built-to-last. It has the right material that allows this piece of clothing to handle 1000 degrees temperature at a low cost. 
The ABN Heavy-Duty Fiberglass Fire Retardant Blanket is also designed with durable brass grommets. Because of this feature, hanging this fire-resistant blanket became extra easy. 
Pros
• 
It includes reinforced hems and brass grommets
• 
Made out of fire-resistant material 
• 
Wear and tear-resistant features
• 
Flexible for easy transport and storage
• 
Affordable than other welding blanket options
Cons
• 
Must be kept in exact size
• 
Not recommended for skin contact
7. Waylander Svalinn Fiberglass Welding Blanket
We chose Waylander Svalinn Fiberglass Welding Blankets because of their unique dual-sided vermiculite treatment. If you're a kitchen expert like us, you'd know that material with this feature could lessen the shedding of a fiberglass blanket. It's the best welding blanket for a smoker if you have sensitive skin as well. 
Upon closer inspection, we also noticed that it's reinforced and stitched with a Kevlar thread. With this material, you can be sure that your welding blanket is 100% fire retardant.
This welding blanket for smoker grills can halt flames up to 1400 degrees Fahrenheit, even in cold conditions. 
Pros
• 
Less shedding and not irritating on skin
• 
Made out of high heat resistant materials
• 
Versatile blanket for multiple uses
Cons
• 
Expensive than other flame retardant blankets
• 
No other blanket color varieties
Smoker Welding Blankets Buyer's Guide 
Purposes of a Welding Blanket
Typically, welding blankets are used as a layer of protection in the welding process. But since it has components that could shield smokers from harsh temperatures and harmful elements, it is often used as kitchen equipment covers. It can also be used as insulation blankets to maintain consistent heating in the cooking chamber. 
Material Type
Fiberglass 
As you may have noticed in the list, fiberglass is the most common non-melting material used in typical welding blankets. Why? Because this type of clothing has great resistance to high heat, and it's all thanks to its tightly weaved glass fibers [1]. 
However, remember that some uncoated blankets can irritate your skin, so we advise you to be selective when buying this variety. 
Leather
Other materials you may encounter when shopping for the best welding blankets for a smoker are leather. It's a no-brainer that this material has high-temperature resistance, but did you know that it also doesn't need extra coating? Unlike glass fibers, its surface is smooth. On the other hand, they can be very expensive. 
Felt
Another alternative welding blanket variety you can try are the ones made with felt textiles. Like leather, we noticed that this clothing has a smooth surface. Carbon felt blanket options are generally capable of handling temperatures up to 1800 degrees, and they're also very cheap. The only downside for this textile is it's not as durable as glass fiber threads.
Acrylic
These types of blanket options can withstand at least around 1000 degrees Fahrenheit. As it has much less temperature capacity, our resident chefs would only recommend this medium-level cooking and storage environments.
Silica 
If you want your smokers to resist oil components, the best welding blanket for smoker grills that you should buy is a fabric made out of silicones. Although it has high heat tolerance as well, it can only handle between 500F to 1000F. 
Vermiculite 
Another alternative to glass fiber types is the vermiculite welding blankets. It has less shedding and definitely has lesser chances of irritating your skin. With heavier fabric weight, these options can add a strong layer of protection to your smokers. 
Heat Resistance
For kitchen equipment that is often exposed to high temperatures, you'll need a welding blanket that can insulate the heat. Selecting non-heat-resistant clothing to cover your smokers will not only ruin the fabric but also potentially stain and damage your cookware. 
Depending on the blanket material we discussed, your welding blankets can resist a high-temperature range up to over 2000 degrees Fahrenheit.  
Temperature Resistance
Heat isn't the only dilemma when maintaining your smokers. Cold weather can be your biggest enemy too! Many welding blankets claim to resist heat, but keeping your smoker in tiptop shape requires covers with all-out temp resistance.
You can assess your needs by evaluating the specs of your cookware and the environment you'll put the smoker in.
Flame Retardancy
Apart from resisting extreme temperatures, the flame retardancy of your blanket must be on point. These are the substances that can prevent flames from spreading in the event that your blanket's resistance to high temperatures results in burns and cause a fire.
How to Properly Clean Welding Blankets
When washing the best welding blanket for smoker grills, we recommend using a bleach-free detergent. Like any fabric, bleach detergents and typical soap can ruin the quality of the welding blankets. 
If you're not sure how to spot bleach-free detergents, our team urges you to check the label of the products' label. 
Can You Cut a Welding Blanket?
Yes, you can cut welding blankets. However, cutting its material may cause the unraveling of reinforced hems. If you can, our experts advise reading the manufacturer's instructions. 
You see, some welding fabrics come with labels indicating if they're good for cutting. Some options will advise you to leave it at the same size and fold it during usage. 
Are Welding Blankets Waterproof?
Not all welding blankets are fully waterproof. At best, these fabrics are water-resistant. Keep in mind that the main purpose of these covers is to protect smokers from harsh temperatures and harmful components. 
FAQ 
How do you wrap a smoker with a welding blanket?
To wrap a smoker with a welding blanket, all you need to do is snug it and place it tightly around the grill's body. You can wrap it the same way you use typical insulation jackets. No need to bother with custom fits. Ensure that it covers the cookware exterior for an enhanced heating consistency. 
Our Top Pick For a Welding Blanket for a Smoker:
Steiner 316-4X6 Welding Blanket
Out of all the best blanket options we used on the list, our kitchen experts choose the Steiner 316-4X6 as the best welding blanket for a smoker. In a nutshell, its fabric offers enough resistance to temperatures, lightweight construction, and flexible usability that are highly suitable for maintaining any outdoor kitchen equipment.