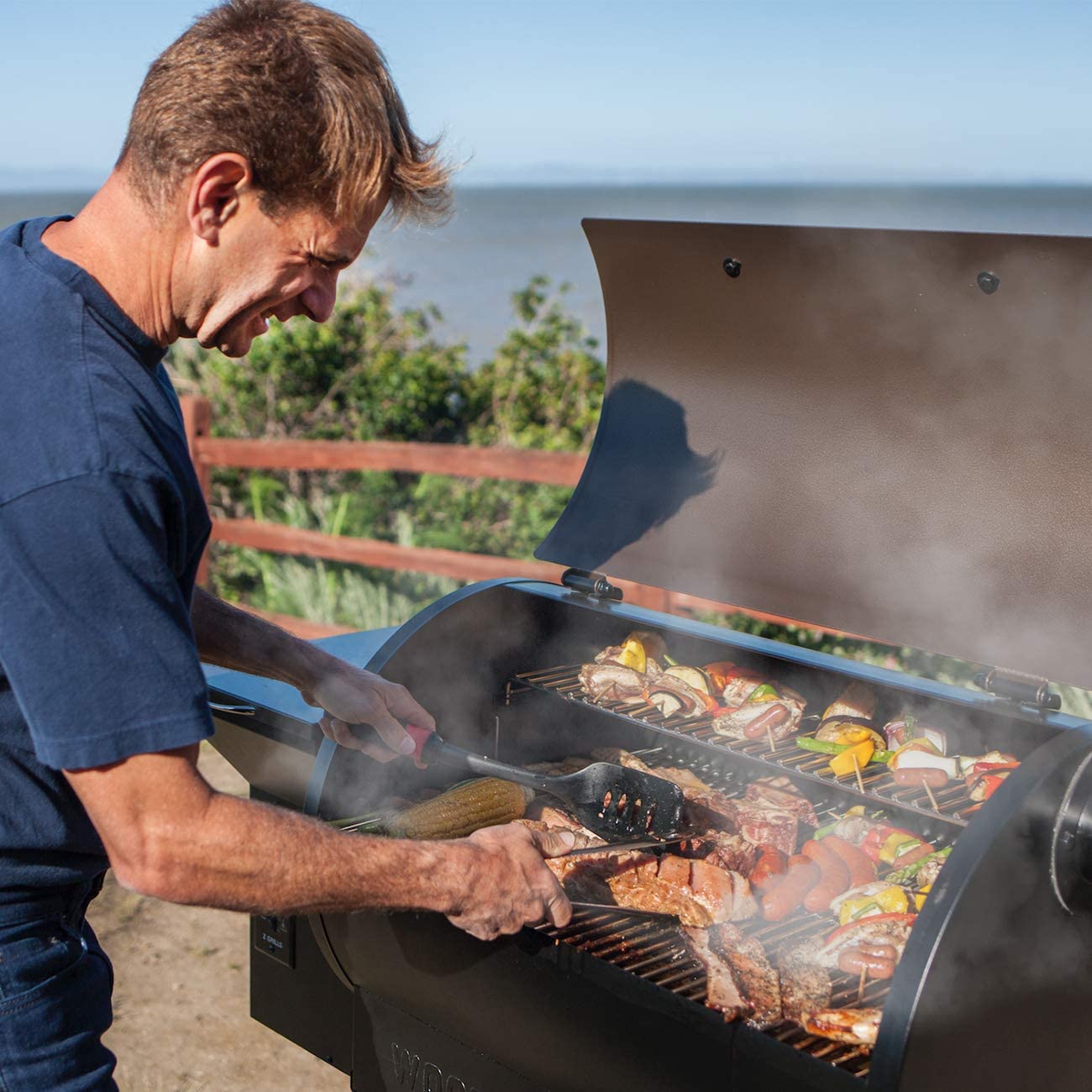 What is the Best Pellet Grill Under $1000 in 2023
Admit it or not, a pellet grill can achieve the perfect smoky flavor gas grills can't replicate easily. However, it's also not a secret that it's not as affordable as other cooking options. If you're not careful, you may end up going home with a substandard grill. 
Fortunately, our team tested the best pellet grills to see if their budget-friendly values match your grilling needs.
Reviews of the Top Pellet Grills Under $1000
1. Louisiana Grills LG800 Elite Freestanding Pellet Grill
Key Features:
• Cooking area: 838 square inches
• Pellet hopper capacity: 12 lbs
• Maximum temperature: 600F
• PID temperature controller
• Smart meat probe
• Grease management system
• Fan-forced convection cooking
If you're planning a backyard barbecue party, you'll need a pellet grill with a larger cooking space like Louisiana Grills LG800. It has a massive cooking area of 838 square inches, so you can save time when preparing a meal. After grilling, you can rely on its 248 square inch warming rack to cool the meat down.
Cooking versatility is one of the features our testers noticed in this unit. Whether you're planning to slow roast or bake your meat, this grill can accommodate it. 
You can also count on its precise temperature control, reaching up to 600 degrees. Your desired temperature is also enhanced with the unit's 12-pound hopper capacity.  
Pros
• Capable of reaching high-temperature range
• Best pellet grills under $1000 for massive food prep
• Suitable unit for different cooking processes
• Wide grilling space and durable construction
• Has an accurate temperature control
• Includes a porcelain-coated steel warming rack
Cons
• Not for built-in pellet grill installation
• Has a heavy shipping weight 
2. Pit Boss PB850G Navigator Wood Pellet Grill Smoker
Key Features:

• Cooking space: 879 square inches
• Pellet hopper capacity: 28 lbs
• Maximum temperature: 500F
• Porcelain-coated cast-iron grates
• LED digital control board
• Direct Flame Searing
• Versatile cooking styles
When shopping for pellet grills, you'll need a durable unit that can stand the test of time like the Pit Boss PB850G Navigator. Our cooking experts included this grill on this list because of its premium-grade steel construction that can withstand the heat of any slow cooking method. 
This pellet grill features Flame Broiler Lever technology, allowing it to reach a temperature range of 180° to 500°F. Its hopper can also carry 28 lbs of wood pellets, so you wouldn't need to worry about maintaining a consistent temperature and trapping that smokey flavor while cooking. 
Pros
• Best pellet grill smoker for slow cooking time
• Can maintain a high grill temperature range
• Heavy-duty and durable construction
• Includes pellet grill cover upon purchase
• Wide cooking area and high hopper capacity
Cons
• More expensive than other pellet grills on the list
• Must be cleaned regularly for maintenance
3. Pit Boss Sportsman Wood Pellet Grill
Key Features: 
• Max cooking temperature: 500F
• Cooking space: 387 square inches 
• Pellet hopper Capacity: 19 lbs
• Stainless steel design
• Digital temperature control
• Indirect & direct flame mode
• Lightweight construction
If you only do casual BBQ parties, getting a wood pellet grill that you can easily put away in the storage is the best option you can consider. Because of that, our team decided to test Pit Boss Sportsman Wood Pellet Grill. At first glance, you can already tell how portable it is with its foldable legs and lightweight structure. 
Although more affordable than others, it has a digital temperature control board that caters to a hopper carrying 19 lbs of natural wood pellets. 
Our testers also find utmost convenience with its 387 square inches cooking area. Unlike traditional grills, this unit can accommodate any cooking process. 
Pros
• Modern and convenient temperature control function
• Best pellet grills for a small outdoor kitchen space
• Has a wide cooking area & durable exterior
• Works well even in colder temperatures
• Features indirect and direct flame mode
Cons 
• More suitable for smaller grilling sessions
• Narrower heat range than other pellet grills
4. Pit Boss PB1100SP Sportsman 1100

The  PB1100SP Sportsman 1100 proved to our kitchen experts that the best pellet grill could be portable and massive at the same time. During the cooking test, this unit's 1100 sq. in. cooking area allowed us to cook as many pieces of meat as we wanted. 
Upon closer look, you'll also notice that it has stainless steel cooking surface. Rest assured that you'll get the smoky flavor trapped into your meal as the unit carries around 30 lbs of wood pellet grains. 
Given that this wood pellet grill has removable shelves and trays, cleaning it wasn't much of a hassle as well.  
Pros
• Easy to clean and heavy-duty exterior
• Wider cooking area than other pellet grills
• Capable of various cooking techniques
• Highly portable construction with wheels
Cons
• No pellet grill cover included
• May not suit small kitchen space
5. Pit Boss PB820SP Sportsman 820
Another great outdoor kitchen tool our resident chefs recommend is Pit Boss PB820SP Sportsman 820. Not only does it come from an award-winning brand [1], but this pellet grill offers an adjustable Flame Broiler Lever™ suitable for different cooking techniques. 
It has a slow smoke range of 180° To 500°F that you can adjust via the digital temperature control board.
Not many pellet grills have this, but it has a spice rack and a bottle opener built into the unit. If you intend to slow cook your meat, the unit's 21 lbs pellet hopper capacity won't disappoint you and keep consistent heat in your pellet smoker. 
Pros
• Manufactured by one of the best pellet smoker brands
• Extra features like shelves, bottle opener, etc.
• Highly suits slow grilling and smoking techniques
• Includes durable wheels for added portability
Cons
• Pellet grill's legs do not fold
• Must be handled with utmost care
6. Pit Boss PB500SP Sportsman 500
Near the end of our search for the best pellet smokers, our cooking team bumped into PB500SP Sportsman 500. No need to reserve a fancy restaurant when you crave grilled steaks because this unit has a cooking range of 180°F to 500°F to cater to your needs.
Although this pellet grill has a smaller cooking space of 542 square inches, you can count on its consistent smoky flavors thanks to the 15 lbs hopper capacity. Expect additional convenience as the unit includes a plate flame broiler that you can access easily through a handle.
On top of that, this wood pellet grill has side shelves and removable trays to assist your cooking sessions. 
Pros
• More affordable than other pellet grill smoker options
• Convenient pellet grill for newbie cooks
• Aesthetically-pleasing design and construction
• Versatile temp range for many cooking techniques
 Cons
• Smaller hopper than other pellet grill options
• Not suitable for massive cooking sessions
7. Camp Chef Woodwind WIFI Pellet Grill
While the pellet grill market is saturated with expensive price tags, Camp Chef Woodwind WIFI Pellet Grill proved its value with modern connectivity options. You may not know, but you can control this unit via Bluetooth or WiFi connections. 
Camp Chef Woodwind also features a smoke control function, allowing users to set settings from levels one to ten. Whether you're aiming for slow smoking or grilling, Camp Chef Woodwind can accommodate your cooking temperature needs from 160F to 500F.
On top of that, this Camp Chef WIFI woodwind pellet grill has PID temperature control for accurate heat while cooking. The unit's sear box and grates can also help you achieve searing marks. 
Pros
• Great alternative for Camp Chef Smokepro
• Includes PID temperature control
• Designed with convenient cleanout system
• Includes four stainless steel meat probes
• Has stainless steel sear box
Cons
• May require wider kitchen area
• Moderately expensive than other options
8. Z GRILLS Wood Pellet Grill

Moving on from Camp Chef, our testers went ahead to try the features of Z GRILLS Wood Pellet Grill. First off, the unit's digital controls are noticeably more convenient than others due to its automatic pellet feeder functions. 
Unlike typical grills, this Z Grills unit has 1060 square inches of grilling area and a hopper capacity of 20 lbs. And with a waste oil collector, cleaning the grease off of the grill wouldn't be a problem.
Most Z Grills options also have storage spaces, which our team finds really convenient for storing tools you'll need in every BBQ session. 
Pros
• Features an oil collector for easier cleaning
• Bigger cooking area and warming racks
• Storage space and side shelf inclusions
• Auger system for continued heat 
Cons
• Short temperature range
• Heavy-weight and massive
Pellet Grills Under $1000 Buyer's Guide 
Size and Construction
It doesn't matter if you prefer buying Louisiana Grills, Z Grills, Green Mountain Grills, or Camp Chef. When you buy a pellet grill, you have to consider the available space in your kitchen. 
Do you near a countertop or a freestanding unit? Our resident outdoor cooks recommend assessing the kitchen's layout before proceeding with any purchase. 
For the construction, it's good to go for grills with stainless steel construction.
As you know, your cooking equipment must withstand heat, especially for slow smoking methods. Stainless steel is a piece of material known for durability, and you'll notice that many pellet grill options are made of this. 
Grilling Area
It's not a secret that any cooking method takes time. But you intend to save yourself from repeated food prep, getting a pellet grill with ample cooking space is a great way to make all the grilling faster. 
However, our cooking experts would like to remind you that grills with wider grilling areas also have higher prices than those with smaller construction. 
Temperature Control
As a modern cook, nothing is more convenient than having a grill with excellent temperature control features. Given that grilling and smoking requires a lot of time, having a unit with LED readout and digital controllers can surely put any home cook at ease. 
It's also wise to check the heat range of your grill. IF you look at the current pellet grill market, you'll see units that can handle temperatures from 150 degrees Fahrenheit to 600 degrees Fahrenheit. 
Depending on your cooking needs, you can go for options with settings that can reach low temperatures for slow smoking and ones that can reach high heat for searing foods. 
Heating Power
If you want uninterrupted heating power when grilling, our team recommends buying units with automatic pellet feeders. Given that you'll be spending lots of cooking time, it's crucial to maintain the heat range at the same level by ensuring that your grill does not run out of pellets. 
You can also check the BTU (British Thermal Units) metric of the pellet grill you're buying. This unit of measure usually indicates how hot your cooking equipment can get. 
Cooking Performance
The performance of your pellet grills may be affected by many factors. However, it's also highly reliant on the unit's combustion system. If you don't know what it is, it's a combination of a fire pot and an igniter.
The fire pot is for ventilation, and the igniter rods start up the grill. Given that firepots are close to the heat, it's advisable to get one with stainless steel design. You should also consider asking about the availability of its igniters as it's prone to burning out as time goes by. 
Cleaning and Maintenance
Like it or not, cleaning is part of the deal when you own a pellet grill. If you want the job to be easier for you, you should consider buying grills with grease and ash cleanout systems. 
It'll also save your cleaning time if the pellet hopper attached to the grill has a cleanout door for easier access. 
As you may already notice, not all equipment under this price has this feature. Some units will have you open lids and disassemble some parts to clean them completely. 
And while we don't discourage doing this as long as the grill gets cleaned, this time-saving feature is surely more sanitary. 
Value For Money 
Although pellet grills with premium prices have their advantages, there are affordable units you can buy that are just as good. Choosing pellet grills over other alternatives gives you the advantage of executing different cooking techniques. 
Given that you can grill and smoke in one unit, it means that you can use this equipment no matter what season it is. Besides added flavor, using pellets during cooking sustains a steady temperature and makes cooking results a lot better than using charcoal grills. 
FAQ 
1. Are wood pellets safe for grilling? 
Yes, wood pellets are safe to use for grilling. However, we recommend purchasing food-grade varieties. Some pellet products may contain additives that give your food a chemical flavor. So if you don't want that, look for ones labeled as 100 percent hardwood pellets. 
2. What type of cooking methods can you do on a pellet grill?
There are many cooking methods you can do on a pellet grill smoker. A few options you can consider include smoking, grilling, roasting, baking, or even braising. If you want, you can even use it for a barbecue party. From cooking crispy chicken wings to making a Crème Brulee, pellet grills are reliable cooking equipment to choose from.  
Our Top Pick For a Pellet Grill Under $1000: Louisiana Grills LG800
It's not surprising that there are many options we can consider for the title of the best pellet grill under $1000. However, after our team's evaluation, Louisiana Grills LG800 clearly stood out in value and features. With its high range temperature range of 600F, users can be assured that it can handle any cooking techniques they'll need to execute.