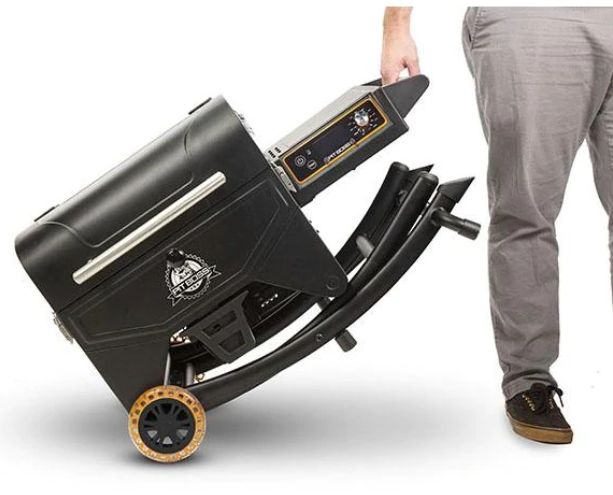 Best Pit Boss Pellet Grill In 2023 | Brand Overview
Pit Boss pellet grills and smokers are top quality, and so are their accessories and product lines.
The creators of the brand are grill lovers themselves and have set out to establish a brand that allows even beginners the "skills" to become pit bosses.
So, do the products match up to the vision, or will consumers be left disappointed?
Let's find out with our experts' Pit Boss review. 
Overview of the Top Pit Boss Pellet Grills and Smokers
1. Pit Boss PB1100SP Sportsman 1100
Looking for that authentic smokey flavor that you can recreate in your own backyard? If that's what you want but do not have a professional grill, then a pellet grill is your answer. The Pit Boss PB1100SP Sportsman 1100 has the ability to simulate that smoky taste wherever you are, whether it's in your backyard or on a camping trip.
The pellet grill features over 1,600 square inches of cooking space and really is the definition of an all-in-one machine. You can grill, sear, smoke, bake, roast, braise, and BBQ with just this one Pit Boss pellet grill. 
Pros
• A very versatile machine
• Great for outdoor cooking
• 1,600 square inches of total cooking space
• Can use direct or indirect heat 
• Has a digital control board
• Comes with accessories
Cons
• Can't use metal brushes to clean the grates
• Not as portable as some smaller pellet grills
2. Pit Boss PB820SP Sportsman 820
Speaking of portability, if you have no need for a spacious grill, then the Pit Boss PB820SP Sportsman 820 is an excellent pellet smoker choice. It's an 8-in-1 versatile machine that comes with a 5-year warranty.
This Pit Boss grill and pellet smoker can handle direct-flame grilling up to 1000-degrees Fahrenheit! All you need is to purchase hardwood pellets and the PB820SP will take care of the rest. The 21-pound hopper capacity is enough to keep your Pit Boss pellet grill fired up for hours. 
As with all other Pit Boss Pellet grills, this one comes with a handful of accessories as well.
Pros
• Wood pellet grill and smoker
• Cast iron cooking grates
• Fan-forced convection cooking
• Stainless steel bottle opener
• Comes with meat probes
• 5-year warranty
Cons
• Needs to be stored under a cover
• No sliding compartment for searing and charring 
3. Pit Boss PB500SP Sportsman 500

One of the smallest and most portable units from the brand is the Pit Boss PB500SP. With only 542 square inches of cooking space, this pellet smoker grill is ideal for a small family or a couple.
The hopper capacity diminishes to 15 pounds, but that is still enough to get some good dishes out before having to refill.
Like with the other Sportsman pellet grill units, this one also has the Adjustable Flame Broil lever, which allows you to use direct or indirect heat cooking. Yes, there is also direct flame access for grilling. 
Pros
• Can char grill, BBQ, grill, smoke, bake, roast, sear, and braise
• Perfect wood pellet grill for a small family
• Better smoky flavor than a gas grill
• Holds 15-pounds of BBQ wood pellets
• A more portable grill choice
Cons
• A smaller cooking surface
• Can't clean grates with metal brushes
4. Pit Boss PB850G Navigator 850

The Pit Boss PB850G Navigator pellet grill comes with a free cover - who doesn't like free stuff? It is one of the best pellet grills made of premium-grade steel with excellent temperature control and advanced grilling technology.
It has a pretty huge hopper that can house 28 pounds of wood pellet fuel, and the detailed features ad functions of the Navigator series differ from the above Sportsman line, but it also features much of the same, including the char grill, broil, braise and sear features among other things, and a pellet cooking temperature range of 180 to 500-degrees Fahrenheit.
Pros
• Dial-in digital control board
• Wide temperature range
• Has a solid side shelf
• 8 options to satisfy your cooking style
• Porcelain-coated steel grates
• Open flame searing is available
• Folding shelf
Cons
• Cannot clean the wood pellet grill grates with metal
• No foldable legs 
5. Pit Boss Sportsman Portable Wood Pellet Grill

Most Pit Boss reviews are positive because their wood pellet grills come with money-back guarantees [1], satisfaction guarantees and warranties. The Pit Boss Sportsman Portable Wood Pellet Grill is our top recommendation if you want mobility.
Crafted from premium stainless steel, the small wood pellet grill has folding legs and rolling wheels, something most Pit Boss grills do not have for portability.
The small pellet grill still comes with a digital control board, a relatively large hopper capacity for its size, and 387 square inches of cooking space - enough to feed 2 to 5 people. 
Pros
• Cooking temperature range of 180 to 500 degrees Fahrenheit
• Has a grease management system
• Smaller than other pellet grills from Pit Boss
• Direct and indirect heat 
• 19-pound pellet hopper
• Portable pellet smoker grill 
Cons
• Not as portable as a tabletop grill 
• Need to keep an eye on the temperature control 
Pit Boss: History and Track Record
Pit Boss is a big player in the BBQ game, and put emphasis on technology innovation and value engineering in their products. Aside from Pit Boss pellet grills and smokers, the brand also manufactures gas models, charcoal grills, and combo grill options as well, which are a combination of both. 
You can turn to the brand to purchase more than just the BBQ machines, but also the accessories (such as a warming rack) necessary to help you achieve your culinary goals.
Pit Boss is a subsidiary of Danson Inc. and was founded by Dan Thiessen back in 1999. Since the brand's conception, it has upheld its promise to "bring the heat to the barbecue market" and is in constant competition with established brands such as Traeger. In 2020, Pit Boss was one of the top-selling brands per unit in the USA. 
Pit Boss promises its consumers to remain family-oriented, customer-oriented and grounded by their faith and commitment to service. Is Pit Boss worth it? We think so!
Offers, Product Quality, and Pricing
The brand offers free shipping on some products and discounts if you keep your eye out. Most, if not all of Pit Boss's pellet smokers are under 1000, which is a pretty good deal. Most of the grills are crafted from premium steel or stainless steel, which are easy to clean and are excellent options that are built to last.
Pit Boss also manufactures vertical smokers. You can find an electric smoker or vertical pellet smoker within their product line. These devices are excellent options for outdoor cooking parties where that authentic smokey flavor can't be missed. Vertical pellet smokers from the brand are all relatively affordable and the price range is wide enough to accommodate most buyers.
If ultimate portability is something you're searching for, then a tabletop grill is a must-have. Pit Boss pellet grills have options that feature folding legs and locking caster wheels, but nothing is as easy as a Pit Boss tabletop grill.
You will be able to find wood grills, griddles, and even a smokeless fire pit! Pit Boss products are made with excellent quality in mind, so rest assured that your purchase will last for years and is protected with an extensive warranty.
Whatever you go for, a Pit Boss grill can handle slow cooks, the flame broiler system can accommodate direct-flame cooking, and the pellet grills have excellent temperature control (better than most pellet grills).
Pit Boss is also to known to have decent prices that do go on discount occasionally. 
Pit Boss Grills/Smokers Buyer's Guide
Don't just take our wood for the best Pit Boss wood pellet grill, you can see for yourself. Below are the traits to look for when you're searching for a wood pellet grill. You will find that the products we included in our list match these characteristics. 
Size and Design
The size of the Pit Boss grills you are looking at will also impact what you can cook. Do you usually opt for skewers, or do you plan on roasting a whole pig? To find the right Pit Boss pellet grill, you have to think about the type of food you will likely prepare.
Keep in mind that a larger pellet grill with a bigger cooking space isn't the most economical. A larger Pit Boss pellet grill requires more wood pellet fuel [1] to operate, which will equal more money.
If you thought thinking about the size of your Pit Boss grills was hard enough, you also have to consider the pellet grill configuration. There are 2 main types of pellet grills - freestanding and built-in, both of which we included on our best Pit Boss pellet grills/smokers list.
A freestanding pellet grill is great for mobility because it usually has at least 2 wheels to increase portability. There will also be bottom shelves and side shelves present for extra storage. Pit Boss manufactures a lot of freestanding pellet grill models.
You may even find some pellet grill options to have secondary cooking appliances such as an extra burner or something for slow cooking. 
The next option is a built-in wood pellet smoker, which is quite common for outdoor BBQ pits. You will find them built into the islands. 
Type of Grill
The next part is a very important aspect to keep in mind - what type of Pit Boss grill do you want? There are 4 main types - charcoal, pellet, electric and gas. We're going to break down each one in more detail.

• Charcoal
A Charcoal grill is an excellent choice for an authentic chargrilled flavor that you may not be able to get with other grill types. Charcoal grills are designed for indirect grilling and for high temperatures. If you cover up the grill, you can also obtain a delicious smokey flavor as well.
As far as outdoor grills go, charcoal options are the cheapest. However, there are no temperature control knobs, so you have to go with whatever is happening. The average temperature is 700-degrees Fahrenheit. 
A major pro is charcoal options heat up much faster than electric or gas models, so people who can't wait for food will be very happy. 
• Pellet
A pellet grill takes wood pellets, which are poured into the hopper to power the heat. Loosely said, pellet grills offer the best of both worlds between gas and charcoal. You get that yummy smoky taste with excellent heating power. 
For example, Pit Boss pellet smokers and grills are also one of the most versatile tools as they are advertised to be an 8-in-1 design. You can find large to small cooking space options with temperature control and a range of 160 to 600-degrees Fahrenheit.
Overall, pellet grills give you more control over how quickly the food cooks. You may wonder why pellet grills are separate from electric grills because they are still electrically powered. While this is true, wood pellet models take wood pellets to bring the smoke.  
• Electric
Speaking of electric grills, it's the next type on our list. Electric models are so easy and relatively smokeless compared to some of the other models. Electric grills are a great suggestion for apartment living and for people who do not want to have lingering smoky air.
You won't need any type of fuel to power this grill, just a plug and you're good to go. It heats up pretty quickly, though not as fast as charcoal models, and the cleanup is so much easier. 
• Gas
We couldn't forget about the conventional gas grills. Gas grills are the most popular and common type of grill. They are convenient, fast and easy, heats up quickly, and provide a hassle-free cleanup.
More advanced models may also have features to add wood chips in to produce a smoky flavor. Gas models are so simple and they have temperature controls, digital panels on some options, and many with a very large cooking space to accommodate lots of hungry guests. 
Cooking Area
We talked a little about the cooking area or cooking space. Before you get started, you have to determine the cooking surface you need. A larger cooking surface has more room for more ingredients at once, and it's recommended for larger parties. However, you can still choose a big wood pellet grill if you want to cook all your dishes at once.
Also, be aware that there are 2 size listings for Pit Boss pellet grills. You may see "total cooking area" and "primary cooking area". The total cooking area takes into account the entire surface - even the secondary racks. Whereas the primary cooking area is where the heat is.
Let's pretend that the Pit Boss grill you're looking at has 620 square inches of total cooking space, but the racks take up about 120. This means that your realistic cooking surface (the part where there is actually heat) would only be 600 square inches in size. Don't be tricked! 
Hopper Capacity
The hopper in your pellet grill from Pit Boss is where the pellets are stored. Why does the size of this container matter? Because it directly affects your cooking time. You can always refill it to prolong the session, of course, but no one really wants to do that when they're getting their grill on.
In general, a smaller grill will have a smaller hopper capacity, but this isn't always the case, so double check! 
How do you know how long your hopper can sustain your cooking? As a general rule of thumb, one pound will equal one hour. So, if your hopper has a 30-pound capacity, then you will likely be able to BBQ for that amount of hours. Make sure that the hopper capacity of your grill from Pit Boss can last.
As a tip, we would suggest keeping some small backs of pellets handy so you can refill it whenever necessary.  
Cooking Performance
What can your Pit Boss grills do, and how well can it do it? That is the cooking performance. It has to do with the features and the construction of the grill. As we mentioned, most of the brand's grills are crafted from stainless steel, which is easy to clean and maintain. 
The grills also come with plenty of accessories and add-ons of your choice. Some even have Wi-Fi! You get your basic accessories such as meat probes, grilling options with maybe a flame broiler, extensions and other features that handle low and slow cooks and much more. 
Don't just take a manufacturer's word for it and trust that "stainless steel construction" means 100% stainless steel. There are plenty of units that may have a stainless steel exterior, but the inside is material that could rust.
What you should definitely make sure is crafted from stainless steel are the following: grates, drip pan, deflector, and the fire pot. Of course, if everything is stainless steel then that's an added bonus. 
Customer Reviews
The customer reviews for Pit Boss grills are often very favorable. If you do a quick Google search, you will see that consumers mostly have good things to say about the brand. This is also the reason why our Pit Boss reviews of their pellet grills are positive.
What's great about Pit Boss is not only the quality of the products, but also the vision, innovation, and variety. 
Promotions
You may be able to find Pit Boss promo codes and discount codes online that work on their site. We suggest keeping an eye out on websites that will occasionally have percentages off, free shipping deals and more. 
FAQ
1. Is the Pit Boss a good grill?
Yes, the Pit Boss is a good grill. In fact, grills from Pit Boss come with satisfaction guarantees, lengthy warranties, and money-back guarantees. Pit Boss grills are made with innovation and quality in mind without sacrificing performance.
2. How long does a Pit Boss grill last?
A Pit Boss grill will last for about 10 years. This number depends on how often you use the product and the maintenance. Grills require maintenance too, no matter how durable they are. Since Pit Boss delivers top-quality products, you can plan for it to be around for a good decade. 
3. Which Pit Boss series is the best?
We believe the Pit Boss Pro series is the best out of the brand's product lines. All Pit Boss grills are excellent, but the Pro line has more advanced features and even models that provide a very expansive cooking space. 
Our Top Pick For a Pit Boss Grill/Smoker:
Pit Boss PB1100SP Sportsman 1100
Our top pick of the best Pit Boss grills/smokers is the PB1100SP. You get to have the smoky taste you like with little to no hassle. We also love how this smoker is an 8-in-1 machine that can accommodate your unique cooking style. It also has enough space to prepare food for larger parties and satisfy many hungry bellies.