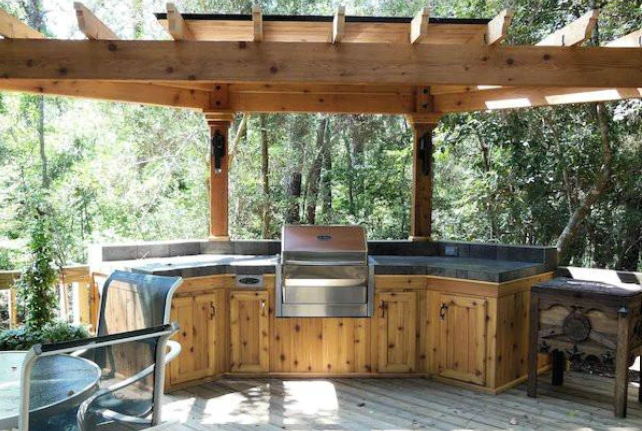 What is the Best Memphis Grill? Our Top Picks Reviewed (2022)
Outdoor barbeque parties are double the fun with a reliable grill. However, this may be confusing given the number of options, and investing in one can cost quite a sum. Consolidated from our experts' insights, this Memphis Grills review aims to help you take the best pick among the many to serve your grilling needs.
Reviews of the Top Memphis Grills
1. Memphis VG0001S Pro 57" - Editor's Choice
The Memphis VG0001S Pro Wood Fire Pellet Grill is carefully crafted from the highest quality stainless steel in the market. Its hood is sealed and double-walled, and its oven-grade gasket effectively prevents heat from escaping while cooking. 
The Memphis Pro 57" is an 18-pound pellet hopper with a spacious cooking surface. It has dual convection fans for easy cooling, and shelves for storage. Through its wifi-enabled smart features, you get to set precise temperature levels that allow you to adjust between 180 to 650 degrees, thus revolutionizing your outdoor cooking experience.
Pros:
Wide cooking surface

Double-walled construction and durable stainless steel

ITC-integrated with WiFi

Direct and indirect flame modes

Oven-grade gasket

Integrated genie tool for easy cleaning
Cons:
Bulky and not ideal for small gatherings

Quite pricey
2. Memphis VG0002S Elite 69" - Premium Option
Big parties? No problem, the Memphis Elite 69" is here for you. This wood-fired pellet grill has a 24-pound pellet hopper, and a whopping 1252 square inches cooking surface, making it perfect for cooking large batches of food.
Given its size, the Memphis Elite 69" may be massive but it offers a flexible temperature range of 180 to 700 degrees Fahrenheit. Handling this large model is made easy with its built-in intelligent temperature control. With this technology, you can leave the grill alone for some time and still be able to monitor its temperature levels without undue worries.
Pros:
Durable 304 stainless steel

Wide temperature range

Dual convection fans

Spacious cooking surface

Genie tool for easy cleaning

Smart temperature control
Cons:
Requires a lot of space

Expensive
3. Memphis VGB0001S Pro 28" - Budget Choice
So you want to host an outdoor party but have limited space? The Memphis Pro 28" is here to prove that compact models do not disappoint. 
This grill may be small, but it is made of durable 304 stainless steel. Its 18-pound dual-pellet hopper gives you a range to experiment and achieve a burst of flavors. Its dual convection fans and ITC-integrated build do an exceptional job in circulating and maintaining the heat, while its double-walled hood traps it all in.
The Memphis Pro 28" is a high-performing compact model that exceeds our cooks' expectations.
Pros:
Affordable

Space saver

Dual-bin pellet hopper

Dual convection fans 

Dual-flame modes

ITC-integrated
Cons:
Small

Not ideal for large crowds
Memphis Grills Buyer's Guide
Size and Durability
Size-wise, smaller ones are more portable and easier to store, while larger ones have more features. Our outdoor cooking experts suggest identifying what you need it for when choosing the best option.
Most Memphis Grills reviews emphasize the brand's durability. Their models use 304 and 430 stainless steel grades, making it corrosion-resistant and is sure to withstand multiple and frequent usage.
Temperature Control
Memphis Grills are integrated with Intelligent Temperature Control (ITC)[1]. This allows you to set your desired temperature without having the need to manually check it. This cutting-edge precision and dependability set it apart from other grill brands.
Type of Grill
The most common types of grills are the freestanding, built-in grill, and portable grills.
Freestanding grills allow excellent mobility and storage. They are moveable and have compartments for storing cooking tools and other things you might need.
Built-in grills are for permanent setups. You have to take in mind the particulars in terms of size and dimension to ensure that it fits with your allotted space for storage.
If you need a grill you can carry around, portable grills may be ideal for you.
FAQ
1. Is a Memphis grill worth the money?
Yes, a Memphis grill is worth the money. With versatility and smart designs, Memphis is truly one of the best options for the best outdoor grilling experience.
2. Where are Memphis grills made?
Memphis grills are made in Bloomington, Minneapolis, where they are also designed, engineered, and tested. They have also outsourced manufacturing in Asia as demands for these grills steadily increased over time.
Our Top Pick For a Memphis Grill:
Memphis VG0001S Pro 57"
After thorough testing by our grilling experts, this Memphis Grills review sets apart the Pro 57" as the best in its league for its state-of-the-art design and high functionality. From its ultimate temperature precision to its Intelligent Temperature Control, this model is sure to please even the pros. Outdoor cooking has never been this easy with a reliable, versatile, and high-quality grill.