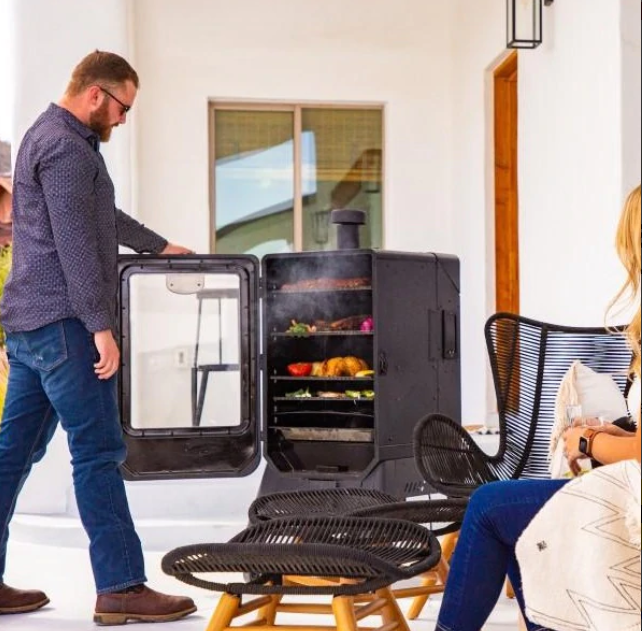 Best Louisiana Grills 2023 | Expert Review and Buyers Guide
Louisiana Grills is a household name when it comes to outdoor cooking, but which model is the best? The choices can be overwhelming, and making the wrong choice can lead to a regretful purchase and tremendous hassle. 
Read on as our grilling experts sum up the best in this Louisiana Grills review list.
Overview of the Top Louisiana Grills
Louisiana Grills 4-Series Black Label
Series Freestanding Vertical Smoker - Editor's Choice
Key Features 
• Total cooking area: 1,110 square inches 
• Four cooking racks
• Two meat probes
The 4-Series Freestanding Vertical Smoker by Louisiana Grills is their state-of-the-art upscale from their original line. 
This model is integrated with their premium technology upgrades that allow you to control and monitor your grill with the convenience of an app. Its digital control board tells you the status and temperature of your meat, so you will not have to manually check it every now and then. 
Built with high-quality steel and easy-to-maneuver wheels, the Louisiana Grills Black Label Series Vertical Smoker is sure to step up your outdoor culinary standard.
Pros:
• 1,077 square inches cooking space
• Superior grill grates
• Fully-programmable meat probes
• Excellent searing capacity
• Space-saver
• Intelligent digital control board
• Five-year warranty
Cons:
• App functionality can be improved
• Cleaning can be a challenge
Louisiana Grills Founders Series Legacy 800 - Premium Choice

Key Features 
• 846 square inch cooking surface
• Hopper capacity: 29 pounds
• Pressurized Cooking System™
• Digital control board 
The Louisiana Grills Legacy 800 features superior rear exhaust output like the other models from the Founders Series, thanks to the Louisiana Grills' patented Pressurized Cooking System. 
Your meat cooking experience is taken to the next level with the Innovative SearTech technology where you get to turn your unit from smoker to a high-temperature sear station simply by pulling a lever.
As for its make, the Premier 800 is made from high-grade steel and a high-temperature powder coat finish. Its 22-inch barrel and 29-pound hopper are perfect for any grilling job, whether large or small.
Pros:
• High-precision temperature control
• Large hopper
• Premium SearTech Technology
• Spacious cook space
• Versatile design
• WiFi and Bluetooth-enabled
Cons:
• App-control can be glitchy
• Pellets can be stuck in the hopper
Louisiana Grills 800 Black Label Series - Budget Option
Key Features 
• 809 Square inch of cooking space
• Hopper Capacity: 18 pounds
• Temperature: 180-600F 
• Black sand powder coat finish
The Louisiana Grills LG800BL is perfect if you wish to move on from your traditional grilling where everything is manual and tedious. 
As with others from Louisiana Grill's Black Label Series, this comes with an intelligent digital control board with Bluetooth and WiFi capability so you can conveniently control it through an app on your phone. 
Its robust, fully designed proprietary exhaust system is a bold upgrade from the traditional smokestack. It also has large caster wheels with an integrated lock on every leg, dual meat probes, and a folding shelf for ease of use.
Pros:
• One-touch autostart grill ignition
• Large hopper
• WiFi and Bluetooth-enabled
• Spacious cooking space
• Wide temperature range
• Fan-forced convection airflow technology
• Value for money
Cons:
• No smokestack
• Small for large crowds
How To Choose The Best Louisiana Grill
Cooking Space and Performance
The grill model you will go for is most likely to depend on your size conditions. If you are into outdoor cooking but your space is limited, go for portable ones.
A grill's performance can usually be measured by the British Thermal Unit (BTU) rating [1]. This refers to how quickly the grill packs and retains heat. As for Louisiana grills, our experts highly commend them as both their high-end and mid-range grills excel in this scale.
Material Durability
Going for purchases that will not last is wasteful. This is why our chefs and grillers suggest choosing a grill with a high-temperature coated finish and heavy-duty steel construction.
These are the tell-tale indicators that your grill can withstand the heat, and will not flake or rust prematurely. 
Value for Money
Purchasing grills is an investment, you would want to choose the one you can maximize. Having a limited budget does not necessarily mean you need to settle for less. 
As you have probably inferred from this Louisiana Grills review, this brand will surely give you your money's worth. Aside from its innovative, cutting-edge features, there is also a standard five-year warranty on all their products.
FAQ 
1. Are Louisiana pellet grills any good?
Yes, Louisiana pellet grills are good. They have a superior searing capability that is unusual for pellet grills.
2. What company makes Louisiana Grills?
Louisiana Grills is a subsidiary of Dansons, a leading manufacturer of cutting-edge and high-quality smokers and portable grills, among many others.
Our Top Pick For a Louisiana Grill/Smoker:

4-Series Black Label Series Freestanding Vertical Smoker
Combine state-of-the-art technology with your love for traditional outdoor grilling, and you get the Louisiana 4-Series Black Label Series Freestanding Vertical Smoker. 
As exemplified in these Louisiana Grills reviews, this model stood out for its high-quality and heavy-duty steel construction, and cutting-edge technology that ensure the ultimate culinary experience and satisfaction.