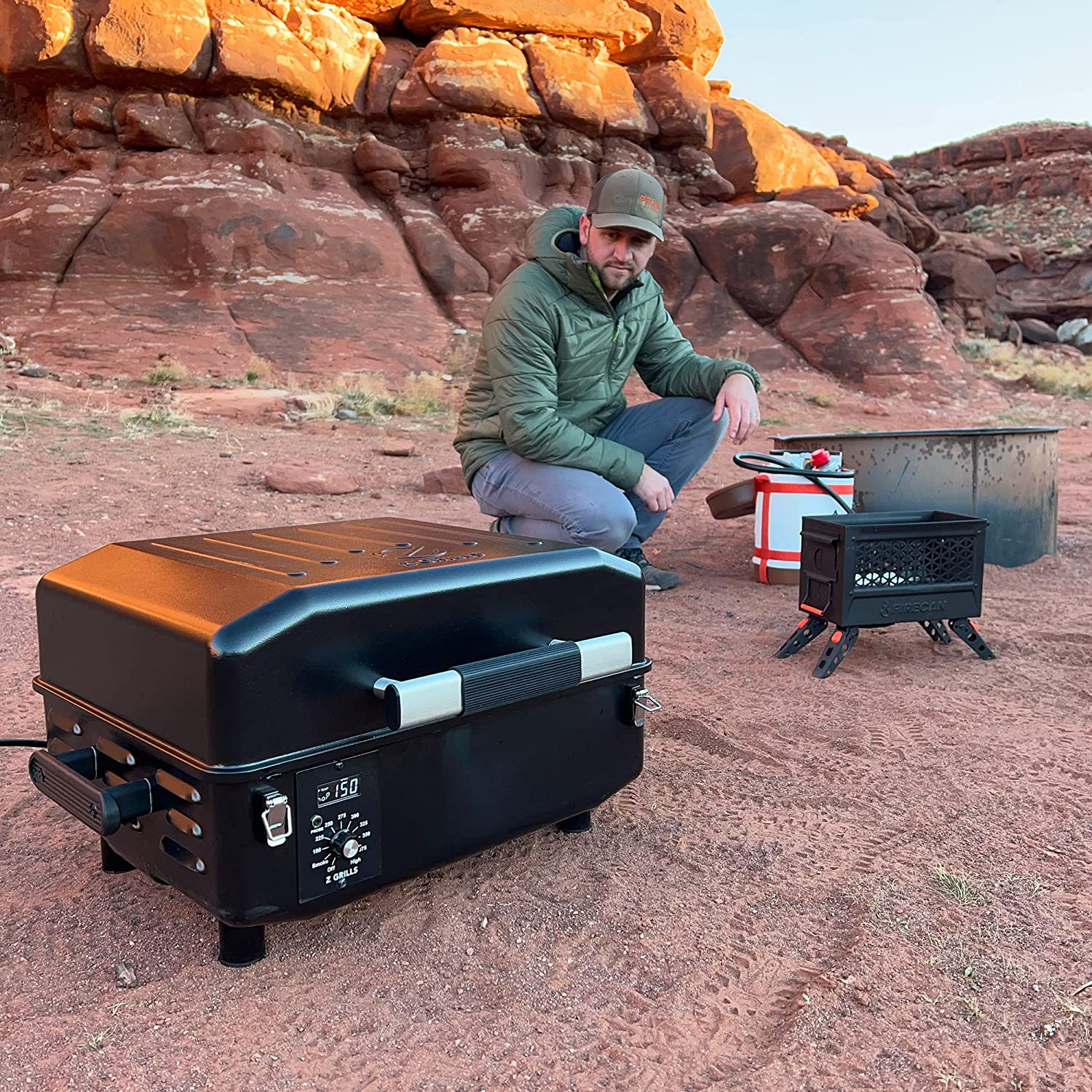 The Best Portable Pellet Grills & Smokers (2022) (Traveling & Camping Must-Haves!)
Buying a smaller cooking chamber like portable pellet grills is a great alternative if you don't have a spacious outdoor kitchen. However, you should know that not every grill offers the same features to make your grilling experience easier. 
If you don't want to waste time on the wrong product, read along as our grilling experts compare the top portable pellet grills in today's market.
Reviews of the Top Portable Pellet Grills 
1. Pit Boss Sportsman Portable Wood Pellet Grill

If you're worried about the hassle of setting up and storing, you should consider getting a lightweight cooking chamber like Pit Boss Sportsman Portable Wood Pellet Grill. With its foldable leg and latching grill hood, we're sure you wouldn't encounter many difficulties moving or traveling with this unit. 
Despite its lower price tag, this Pit Boss pellet grill proved its place on this list with 387 square inches of cooking space. Our testers were also impressed with its versatility owed to its wide temperature range of 180°F to 500°F. 
Its versatility doesn't end there, as we also discovered that this portable pellet grill is capable of indirect and direct flame cooking. On top of that, you can easily get perfect sear marks through the unit's porcelain-coated grill grates.
Unlike the standard wood pellet grill, it features a digital control panel that allows users to enjoy precise temperature control. 
Pros
• Affordable than other portable pellet grills from Pit Boss
• Designed with a cast iron coated cooking surface
• Equipped with a digital temperature controller
• High pellet hopper capacity and wide cooking space
• Capable of reaching a high cooking temperature range
• Folding legs and lightweight construction for portability
• Has indirect and direct flame cooking modes
Cons 
• Lower cooking area capacity than full-sized models
• It may not be suitable for massive food grilling
2. Camp Chef 20" Pursuit Portable Pellet Grill

The slide and grill feature is one of the major reasons why Camp Chef Pursuit made it to this top portable pellet grill list. Its temp range of 650 degrees Fahrenheit is highly owed to this function. 
Despite being compact-looking, Camp Chef Pursuit has smoke settings you can set from levels one to ten, depending on your cooking needs. Its lightweight design and folding legs also give users freedom in storing and transporting this pellet grill.
For a pellet smoker under $500, Camp Chef Pursuit truly exceeds our team's expectations as it includes two meat probes. Its simple construction is also made more efficient with the addition of a cast-iron griddle. 
And if you find grill cleaning cumbersome on most days, we're sure you can handle Camp Chef Pursuit better, thanks to its cleanout system that traps grease and ash. 
Pros
• Has folding legs for easier grill storage and transport
• Easy equipment to clean, store, and transport 
• Reliable smoke and temperature settings
• Suitable pellet grill for high heat cooking sessions
Cons
• Refund or replacement policy may vary
• Not the right pellet grill for massive BBQ parties
3. Z GRILLS ZPG-200A Portable Pellet Grill

Tabletop pellet grills like Z GRILLS ZPG-200A are the best option to consider if you really want to save money and kitchen space. 
If you're a casual home cook, you will find its 202 sq. inch cooking area quite spacious for a fancy steak dinner that can cater to three to four people. 
And did we mention that this tabletop pellet grill has a pellet hopper capacity that can hold up to 8 pounds of wood pellets? Because of this, you can be assured that the food will stay at your desired temperature while cooking in this Z Grills chamber. 
Beginners wouldn't find it hard to handle this tabletop pellet grill as it has a digital temperature controller and LED display for real-time assistance.  
Pros
• Best portable pellet smokers for a tight budget
• Includes temperature controller and LED readout
• Temperature range up to 450 degrees Fahrenheit
• Small and compact grill construction
Cons
• It has a lower pellet copper capacity
• Smaller cooking space than other pellet grills
4. Z Grills ZPG-7002E 2020 Upgrade Wood Pellet Grill

Portable wood pellet grills aren't known for their wide cooking space, so imagine our delight upon seeing Z Grills ZPG-7002E 2020 Upgrade's 700 sq. inches cooking area. And thanks to its 20 lbs pellet hopper capacity, we were able to get the smokey flavor that's impossible to whip up in a gas grill. 
Besides that, its temperature range of 180° to 450° F provides us the liberty to adjust the heat according to the cooking style we want. 
You don't need to worry about your cooking chamber getting worn out with so much heat because its cooking surface is made of durable stainless steel material.
Pros
• Bigger cooking area than other portable pellet smokers
• Has automatic temperature control functions
• Constructed with durable stainless steel components
• High pellet hopper capacity for longer cooking time
• Inludes portable pellet grill cover and meat probes
Cons
• Moderately high pricing than other portable grills
• It does not include the folding legs feature
5. ASMOKE AS350 Portable Wood Pellet Grill

Another one from the best tabletop pellet grill category is ASMOKE AS350. The feature that sets this model apart from typical portable pellet grills is its Micro-Particles Vapor Tech. It allows users to pour any kind of sauce into the grill's designated area to add flavor to the food while cooking. 
During the test, our cooking experts had a convenient experience checking the meat's doneness thanks to the meat probe of this portable grill. It also has a superheated steam technology that allows the food to cook faster than other tabletop grill options. 
This portable pellet smoker has powder-coated steel grates with a non-stick finish that makes its interior easier to clean. We also suggest using its grease and ash collector to save you time and effort cleaning this pellet smoker.
Pros
• Suitable portable pellet grill for beginners
• Includes ash cleanout system grill technology
• Easier to clean than most pellet grills
• Has porcelain grill grates for non-stick cooking
• Includes meat probe for a precise internal temp
Cons
• Pellet hopper only carries 4 pounds of wood pellets
• Small pellet grill for small capacity food prep
6. ASMOKE Portable Pellet Grill AS300 

If you're considering an alternative for Traeger Grills or Camp Chef, ASMOKE Portable Pellet Grill AS300 can be a more economical choice. Besides its lower price range, this grill features a single-button start-up function. 
As soon as we set the temperature, we didn't need to constantly check on the food, unlike when using charcoal or gas grills. 
Small pellet grills don't usually have energy-saving technology, but this unit's temperature controls and built-in meat probe really add to its convenience. You can set it from 180 to 500F, using lesser wood pellets than other portable pellet grill options. 
Grill beginners won't have difficulty setting up this unit as it's easy to assemble and store. The temperature probe is also made of stainless steel, so you can fully rely on its heat tracking with utmost precision. 
Pros
• Best portable pellet smoker for camping or tailgating
• Includes intelligent temperature controls and meat probes
• It consumes fewer wood pellets than other pellet grills
• Great alternative for Camp Chef pellet grills
• Budget-friendly and energy-saving option
Cons
• Includes smaller pellet hopper capacity
• More suitable for serving 3 to 4 people
7. Green Mountain Trek Prime Wood Pellet Grill

Unlike traditional charcoal grill options, Green Mountain Grills Trek Prime can rely on WiFi connectivity to ensure the unit's consistent temperature. While grilling, you can also tweak its adjustable smoke settings from 150°F to 550°F with convenient increment options.
With its adjustable heat baffle, this portable pellet grill can spread evenly distributed heat inside its cooking chamber with no problem. 
You may not know, but Green Mountain Grills are known for their sturdy construction. So instead of folding legs, it features four sturdy columns made of durable material. 
Besides all that, this Green Mountain Grill has a pellet hopper capacity of 9 lbs that's perfectly suitable for meat grilling. Its digital arc controller gave us accurate temperature control and its meat probe.
Pros
• It has great temperature and smoke control
• Made by a known portable pellet grill brand
• Light shipping weight and construction
• More affordable than a Camp Chef pellet grill
• Impeccable build quality and temperature control
Cons
• No foldable legs included in the purchase
• Extendable legs purchased separately
Portable Pellet Grills Buyer's Guide 
Size and Weight 
The best portable pellet grill should cater to your needs and available space. If you intend to use it for traveling or camping, our team urges you to buy a light unit to carry. 
Ask yourself questions like, will it fit your car's trunk when you decide to travel? Pellet grills with folding legs are the ideal option for this as such models won't take much space when brought along.
For an outdoor kitchen that often changes its layout, you should also consider if you'll have extra hands to help you move the pellet grill. Some models can be as heavy as 40 to 100 pounds, so it's crucial to consider the size if you ever decide to own portable pellet grill tools. 
Material Durability
Whether you use the pellet grill in camping or your backyard, we can't deny that it'll be exposed to the harsh conditions of the outdoor environment. Because of this, our resident chefs recommend choosing grills made of durable material. 
As you know, stainless steel has the strength and durability [1] to resist extreme heat and keep the unit warm even in cold temperatures. If you find cooking equipment made in this material, we can assure you that it'll stand the test of time with the right care and maintenance.
Power Options 
The smallest pellet grills on the market can operate using the 12-volt battery of any car, so it's not surprising why many campers prefer using this type of smoker. However, our team would like to note that bigger models would need an actual electrical outlet to fulfill their power requirement. 
If you're using it in your backyard, it wouldn't be a problem as you can use an extension cord, or there may be an available power outlet in your outdoor kitchen. 
But when you're planning for a camping trip, it's crucial to consider the power options available in the place to make your pellet grill operate. Unfortunately, these cooking chambers need electricity to keep the grilling technology going. 
Cooking Area
The available cooking space in your grill determines the overall time you'll prepare the food. It'll be much easier if the number of people you'll cook for aligns with the capacity of the pellet grill to save more time. 
Most portable smokers are smaller in size and can't compare to the capacity of full-sized models. However, some units have small constructions and higher cooking capacities, although it can be very rare. 
Hopper Capacity 
A good portable pellet grill should have a large pellet hopper capacity to sustain the chamber's temperature range. If you've been researching enough about pellet grills, you should know that the continuous supply of pellets in the firebox ensures the accurate temperature in the chamber. 
So if you don't want interruptions of refilling the hopper every now and then, the best advice we can give is to buy a pellet grill with a high hopper capacity. The higher its measurement, the longer the pellets will keep burning. 
Temperature Range
You should know that certain cooking styles like searing meat can't be done in low temperatures. And given that most portable models have limited output sources, it can be hard to achieve cooking results. 
If you read our review, you'll see that we included the temperature range of each grill. Take a look at it carefully and weigh what kind of foods you'll be cooking before purchasing any grill on the list. 
Extra Accessories
It will be easier to move around if your grill has rubber wheels, especially if you often change your outdoor kitchen layout. Besides that, a unit with a pulling handle can also add to the grill's portability or a foldable leg so that you can carry it around when traveling. 
Our grill experts also urge you to buy a pellet container if you have the budget. Assuming that you'll use the grill often, you'll need to store the wood pellets properly to prevent them from going to waste. 
Having a grill cover should be nice, especially if the smoker is placed in an enclosed space for storage to avoid unintended damages. 
Price and Warranty
Unlike full-size grills, portable pellet smokers are more affordable. It's a no-brainer given that these grills are smaller than their counterparts. 
The price range could easily fall between 200 dollars and over 500 dollars each. Remember that these cost estimations depend on the brand and its features. 
As a frequent grill shopper, we'd advise you to check for the product's warranty. Through this, you can safeguard your purchase and ensure that you can return the product within a specific amount of time if found with damage upon its arrival. 
You should be wary about buying from the right store or authorized sellers. Some manufacturers don't grand refunds or warranties if your pellet grill is bought elsewhere.
Benefits of a Portable Pellet Grill/Smoker
Above anything else, nothing compares to the flavor a pellet grill can offer to your food. Wood pellets come in different varieties, so you'll have better options than the smoky scent of charcoal grilling. 
Pellet grills are also used in different cooking styles, not only grilling. Depending on its technology and temperature capacities, you can bake, grill, smoke, sear, and even braise in this cooking equipment. 
Automated combustion settings and temperature controls are delightful features you can rarely see in its alternatives. Although it can be more expensive, it's a kitchen investment that'll save any home cook money and time in the long run.  
Portable Pellet Grill vs. Portable Gas and Charcoal Grills
What sets pellet grills apart from gas and charcoal grills is their ability for accurate temperature control. And while some may argue that gas models often have it, this cooking equipment delivers a variety of flavors that gas and charcoal grillers cannot produce.
Portable Grill vs. Tabletop Grills 
If you need extremely light cooking equipment to carry around, tabletop grills are the best portable model you can consider. Most of the models in this category are small and will have no problem fitting your car's trunk. 
However, portable grills have bigger cooking capacities. If you're grilling for a moderate number of people, it's best to consider this option. But it's also crucial to note that its collapsible legs could make the unit heavier when carried around.
Our Top Pick For a Portable Pellet Grill:
Pit Boss Sportsman
The best portable pellet grill doesn't have to be massive, but it should have convenient features like what Pit Boss Sportsman Portable Wood Pellet Grill showcased in this product review. 
Considering its reliable temperature settings, we're sure this unit can make your cooking experience easier. And besides its affordable price, this pellet grill has a wide temperature range suitable for different cooking techniques.