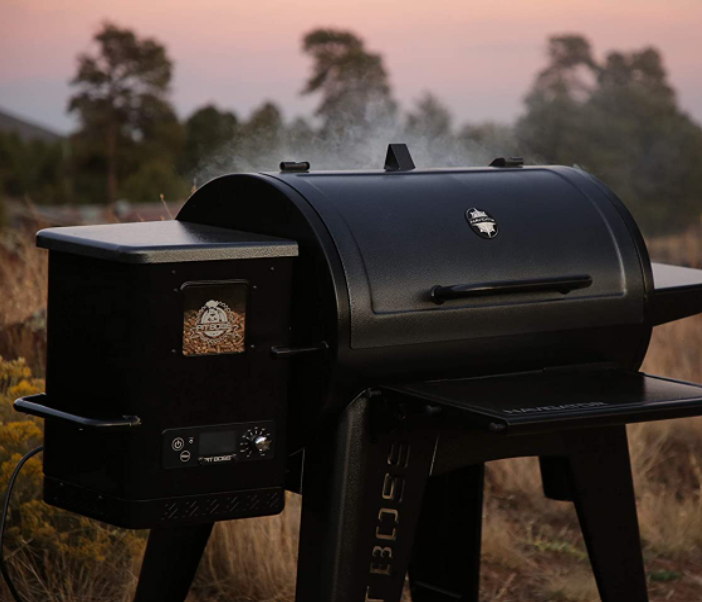 Best WiFi Pellet Grills of 2023 | Expert Picks
Are you longing to replace your beat-up old gas grill? How about you try getting a wood pellet grill?
Pellet grill manufacturers have been mixing the best tech available into their pellet grills, so don't settle for those old-school wood pellet grills.
Only the best pellet smokers will give you precise temperature control options for the best and smokey meals. Let's get into our grill pros' top picks today:
Best WiFi Pellet Grill Overview
These WiFi pellet grills will make it easier than ever to cook delicious food!
1.) Traeger Grills Pro Series 575 WiFi Pellet Grill and Smoker (Best Overall Grill)
The Pro series grills are Traeger's entry-level grills, but this grill is nothing to scoff at.
Thanks to Traeger's revolutionary WiFIRE tracking app, you can dial in the settings for the food of your choice, then just set it and forget it!
Cleaning this pellet grill smoker will be a breeze, thanks to the 575's porcelain grill grates. Say goodbye to sticky cooking surfaces. We recommend using Traeger's signature pellets to infuse your food with an incredible wood-fired taste.
Pros:
Best WiFi pellet grill for the money

6 Cooking styles in 1 incredible grill

WiFire app features Alexa integration
Cons:
2.) Camp Chef 24 In. WiFi Pellet Grill Smoker (Best Value)
Camp Chef knocks it out of the park with this incredibly versatile grill.
Thanks to the Slide and Grill system, this 24-inch grill is a stainless steel jack-of-all-trades. You can even turn your grill into a pizza oven on the fly!
With this grill's WiFi-enabled control panel, you won't have to stay tied to your pellet grill.
Pros:
10 different levels of smoke control

Ash-Kickin' Cleanout system
Cons:
3.) Green Mountain Davy Crockett Sense Mate Electric WiFi Pellet Grill (Budget Pick)
The Davy Crockett is a pint-sized wonder that's a perfect traveling companion.
With its folding legs and grease management system, this is one of the most portable pellet smokers.
The Davy Crockett is perfect if you need a tailgating grill that's easy to set up and put away.
Pros:
Easy to assemble

Flexible power options

Great temperature control
Cons:
4.) Pit Boss PB850G Wood Pellet Grill
Pit Boss grills
are solid and dependable, plus they won't break the bank.
The PB850G comes with a large pellet hopper, so you can let it run unassisted for longer. With the included cover and front shelf, you won't have storage problems with Pit Boss.
Versatility is a given with this grill's 8-in-1 cooking options. If you can dream it, you can cook it.
Pros:
Easy cleanout

Comes with 1 meat probe
Cons:
Pit Boss products are harder to find

Bulky
5.) Memphis Grills Pro ITC3
The Memphis Pro ITC3 is a solid chunk of equipment both looks and versatility.
Thanks to its double-walled construction, this grill is guaranteed to take whatever you give it and come out shining.
If you feel like feeding the whole neighborhood, it also has a cart model.
Pros:
Massive cooking space

Durable stainless steel construction

Made in the USA
Cons:
Very pricey

Small pellet hopper for the size
What Is a WiFi Pellet Grill?
Forget the days of toiling over gas grills and changing the grill temperature through lots of effort. The future is now, and WiFi is here to make cooking easier!
Advantages of a WiFi Pellet Grill
This section will discuss what exactly makes WiFi pellet grills worth it.
WiFi, Bluetooth Connection
We should explain one thing about these pellet grills first. Pellet grill models that feature Bluetooth connectivity are not the same as WiFi pellet grills.
You might be thinking that WiFi and Bluetooth give you remote control over the pellet smoker, right.That's right, but there's more to it than that.
The main difference between pellet grills with WiFi and a pellet grill with Bluetooth is the distance each option will give you.
How Are They Different?
A Bluetooth pellet grill will have a much shorter effective range than WiFi. You'd only be able to get a few feet away from your pellet grill with Bluetooth.
Plus, Bluetooth is more easily blocked. Any insulation within your walls will strongly affect your Bluetooth signal. On the other hand, WiFi is much more flexible.
You can monitor what you're grilling from anywhere you want as long as you have internet access! You don't have to be tethered to your pellet smoker, but make sure you still have your phone handy.
And remember that WiFi is limited as well. Thicker walls can still block it, but more options for stretching and improving the signal are available.
If you need a shorter guide, think of it like this: If you're planning on grilling at a campsite, you'll need Bluetooth. If you're hosting a cookout at home, go for WiFi.
And just in case you want to do both, then get a combination WiFi and Bluetooth pellet grill.
Convenience and Accuracy
A pellet grill smoker must be easy to use. Otherwise, there's no point in all the extra bells and whistles.
You should also look carefully at the different features that a WiFi grill can offer you and see if their WiFi functionality is worth the extra cost.
For an example of a pellet grill that offers worthwhile benefits, look at the Traeger pellet grills and their companion app, WiFire. Their WiFire app comes with bonus recipes of all kinds, and the app can sync with the grill to change the temperature to match the recipe you've chosen. Now that's worth it!
If you don't need all of the extra benefits, go for a cheaper pellet grill. Pick up a quick smoker to set up and get running, so you can start slow smoking faster. Get a pellet grill with a temperature probe to help you keep your cooking mistakes to a minimum.
This will give you a better idea of your food's temperature at every stage of the process and let you customize your steaks and chops to everyone's preference.
WiFi Pellet Grills Buyer's Guide
Keep these things in mind when looking for the best pellet grill.
Cooking Space
What good is a pricey pellet grill if it doesn't have enough space for you to cook on? Not much good, that's what!
Make sure you've got a grill that can fit what you plan to cook on it.
If you want to grill for yourself or a few other people, you can safely get a pellet grill with 500 square inches of cooking space.
However, if you're making enough for an event or a large party, you'll want to pick up a grill with 1000 square inches or more of the cooking area.
Look into getting a smoker and grill with a larger cooking chamber, especially if you plan on smoking lots of brisket at the same time.
Temperature Control
You need to make sure that whatever pellet grills you look at, they can hit the right cooking temperature for your tastes. Your grill should hit an ideal range of 150 to 500 degrees Fahrenheit to reach the right food temperature for both smoking and searing.
Most pellet smokers have trouble hitting this temperature range, so keep that in mind.
Apart from reaching your desired temperature, the ideal pellet grill should also be able to maintain its temperature for longer periods. You won't always be there to check on the grill, so get one that can make do without your guidance!
Hopper Capacity
The wood pellets that pellet grills are named for are held in a fuel hopper. These pellets are slowly fed into the burning pot as you cook.
When you get the grill going, a pellet auger will start moving the pellets to be used as fuel away from the hopper and into the firepot. However, these pellets aren't endless.
How Long Will the Pellets Last For?
You'll go through pellets relatively quickly as you cook. One hour of slow cooking will use between 1 to 3 pounds worth of pellets, so you'll eventually need to refill your hopper.
A hopper that can hold more pellets can be left alone to cook for longer, which means you can get more done while away from the pellet grill.
With a 20-pound pellet hopper, you can leave your grill alone for 20 hours. That's great, but what if you need to replace the pellets in the middle of cooking?
If you plan on swapping pellets often, you'll need a grill with a quick and easy pellet cleanout door. This cleanout door will also help when you're done cooking, but you still have unused pellets in the hopper. You can just pop it open and take the pellets out!
Size and Construction
This goes hand-in-hand with the cooking space up above. A larger, well-built pellet grill will keep you happy and grilling for longer, so that's what you should be looking for!
Bigger pellet grills can even handle several meat probes at once. This is helpful to give you a much more accurate idea of the internal temperature of your meats.
One of the things you should be on the lookout for is stainless steel. Any pellet grills made of this will last you longer.
We recommend taking it up a notch and going for thick, powder-coated steel if you can find it. This coating is designed to be extremely tough.
A powder-coated grill will be more resistant to scratches and chipping, plus it can stand up to higher heat and temperatures. Very ideal for something that will be burning for long periods!
Getting a sturdier, larger grill will run you a higher price, but they also tend to be better in pretty much every way: Better heat retention, more even cooking, you name it.
Price and Warranty
You should keep in mind one thing when it comes to pellet grills: They're expensive! Those extra functions add up in cost.
You can easily find very reliable charcoal and electric and gas-powered smokers for only a few hundred dollars. On the other hand, a decent pellet grill can reach thousands of dollars. With a digital controller, meat probes, and fans, these smokers have many moving parts and thus many possible points of failure.
When something does eventually give out, you need to make sure you can count on your warranty to help fix your issue [1]. Some grills offer up to 3 years of warranties, like the GMG Davy Crockett. Others like Traeger only offer warranties of 1 year.
Customer Support
When things go wrong, you need to ensure that your grill company has your back and will help you get your grill repaired or replaced.
Pit Boss and Camp Chef are famed for their excellent and accommodating customer service. It's as easy as calling them up and speaking with a representative!
FAQ
Here's some extra info you should know:
Is WiFi Important on a Pellet Grill?
WiFi isn't all that important on a pellet grill. As long as you don't move away from your grill, there's no problem with not having WiFi on it.
However, it becomes a different story when you need to help out on the other side of the house or if you plan to slow cook your meats. Let's say you're at a cookout, and you want to chat with someone who's far away so you can ask them how they'd like their food cooked.
That's when WiFi on your grill becomes important. It lets you briefly step away from the grill without fear of burning what's on it.
Or, if you're slow cooking, you can get other things done like mowing the lawn or grabbing a drink, all without checking on your meat probe.
Our Top Picks for Best WiFi Pellet Grills:
Here's the best of the best!
1) Traeger Grills 575 WiFi Pellet Grill and Smoker
The Traeger 575 is the best pellet smoker on this list because of the incredible flexibility it offers when paired with WiFIRE.
With the 575, all you need to do is assemble it, load the hopper, then set the recipe you want. Let this grill do the cooking for you.
2) Camp Chef 24 In. WiFi Pellet Grill
This Camp Chef grill comes with WiFi and Bluetooth capabilities for maximum connectivity options.
Most pellet grills aren't meant for searing, but Camp Chef compensates with their Slide and Sear system to create the perfect hot spot. This will let you taste the meat, not the heat!
3) Green Mountain Grills Davy Crockett WiFi Pellet Grill
The Davy Crockett is the best portable grill on this list. It's lightweight, sturdy, and will let you cook anywhere you want.
It's not as convenient as WiFIRE, but we recommend checking out the Green Mountain website for recipe inspiration. Get the Davy Crockett to be the neighborhood's cookout hero!
Our Top Choice for Best Wifi Pellet Grill: Pit Boss PB850G
The Pit Boss PB850G stands out as a top contender. This grill is solid, dependable, and a cost-effective choice that doesn't compromise on quality.
One of its notable features is the large pellet hopper, which allows for extended, unassisted operation. It also includes a cover and front shelf, solving any storage issues you might have.
Moreover, versatility is a major strength of this grill.
It offers 8-in-1 cooking options, thereby broadening your culinary possibilities significantly.
Whether you have a simple or complex recipe in mind, the Pit Boss PB850G has got you covered, making it the ideal choice for grill enthusiasts seeking variety and convenience in their outdoor cooking endeavors.