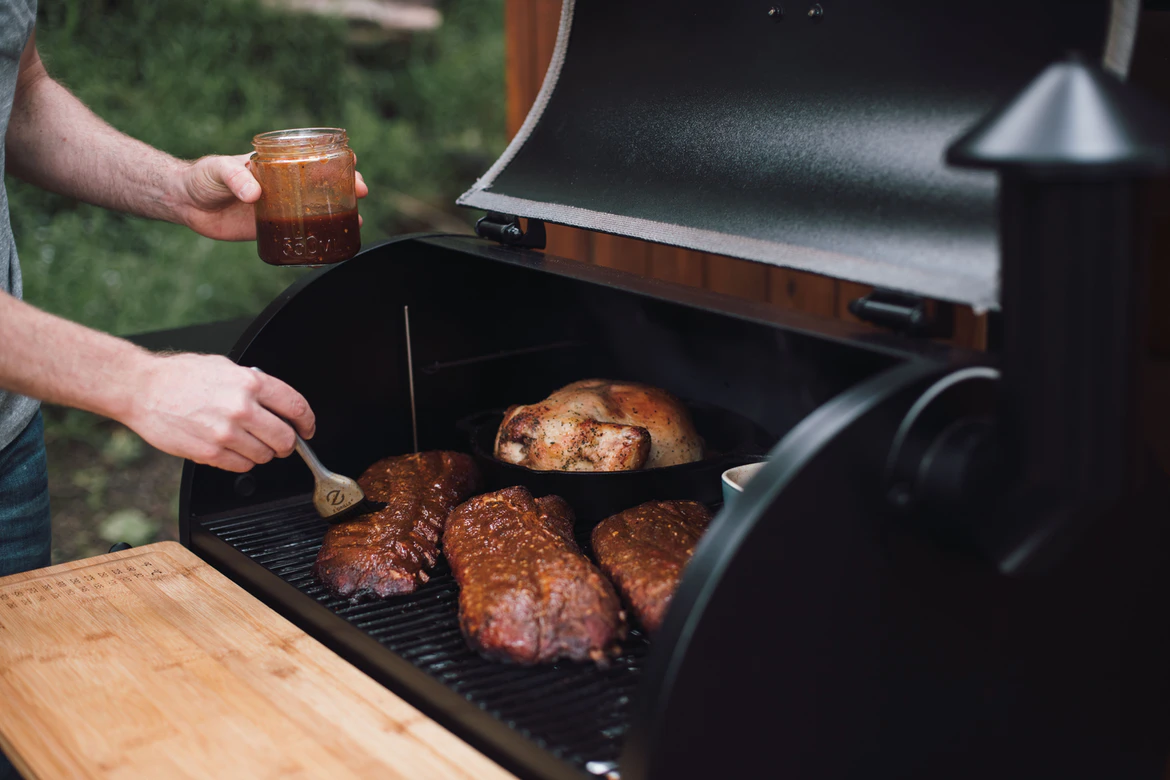 Pellet Grill vs Gas Grill: Which is Better?
Are you tired of your old charcoal grill that can be hard to work with sometimes? Do you want to switch to a better outdoor grill that will keep you cooking for longer but don't know which is better?
Here, our experienced grilling pros will guide you through the similarities and differences between today's most popular grill types: the pellet grill vs. gas grill!
What is a Pellet Grill?
The wood pellet grill does more than the usual grilling. In fact, it comes with lots of cooking options!
This grill is best known for cooking slow and low and can maintain heat very well, even at lower temperatures.
Flavor outcome is also a plus as essences from the pellets penetrate the food, resulting in fragrant, smokey wood flavors. Pellet smokers and grills are becoming more popular nowadays. Some even say they're better than any gas or charcoal grill!
How Does a Pellet Grill Work?
Pellet grills are powered by electricity, and pellets are used as fuel. Wood pellets are made of compressed sawdust shaped into small cylinders.
Pit Boss made this helpful guide about how most pellet grills work:
1. The pellets are first settled into a container placed next to the grilling area called the hopper.
2. From the hopper, they are fed into the grill through the auger.
3. They're then moved slowly into the fire pot powered by a built-in convection fan and hot rods, heating pellets to ignite a fire. Heat-up usually takes up to about 15 minutes.
NOTE: Since we're dealing with an open flame here, it's very important to use heat distributors to ensure even rendering on meats.
What Is It Used For?
This grill does more than you would expect from the usual grilling, as they can smoke, braise, and bake meats, goods, and desserts.
Think of it like an oven, but it's right outside your backyard instead of being in your kitchen! With slower cooking times, the wood pellet grill is perfect for relaxing occasions with close family and friends!
Pros
• Convenient and user-friendly
• Economic cost of use
• Versatile
• Amazing smoke flavor
Cons:
• Expensive
• A hassle to clean up
• Difficulty with higher temperature control
What is a Gas Grill?
Gas grills are one of the essential grill types, just like charcoal grills. Most grills you may have encountered at your local stores are usually gas grills!
They're known for being valuable, efficient, and really great when cooking a wide array of foods. One source is needed to cook your foods in a short amount of time!
How Does a Gas Grill Work
Gas grills come in two versions; ones that require a propane tank and ones that require natural gas.
But in general, a gas grill works this way:
1. The gas is first connected through a regulator leading up to the manifold, which stretches along the length of the cooking area.
2. Fuel is then distributed into the valves, controlled through the burner control knobs. From there, it's passed on into the burner tubes.
3. Lastly, as the ignition switches on or a matchstick is lit, the fuel turns into flames.
NOTE: They do not directly cook into the food, so it's important to put in distributors like charcoal briquettes for a more efficient cooking process.
What Is It Used For?
People favor gas grills for one reason: convenience.
They do best when it comes to grilling and searing. Once cooked, the meat will have beautiful sear marks as a result!
It's perfect for events and gatherings that may require cooking food for as many people as possible in a short amount of time.
Pros:
• Can cook at higher temperatures
• Needs only one source to cook
• Faster pre-heating
• Affordable
Cons:
• Unstable heat retention at low temps
• Lack of flavor
• Safety hazard
Pellet and Gas Grills Compared
Now that you know what pellet and gas grills are, let's see how the two perform when placed side-by-side:
Temperature Control
Most wood pellet grills have a digital interface, complete with built-in thermometers helpful in monitoring the desired temperature for cooking.
Gas grills are usually controlled by twisting the control knobs, with heating options ranging from low to high heat.
However, most of these grills may require separate temperature gauges for measuring purposes.
As they're designed to have advanced features, pellet grills are easier to maintain the temperature right off the bat.
WINNER: Pellet Grill
Temperature Range
In terms of range, pellet grills usually have the desired cooking temperature between 200°F to 350°F.
Most may struggle in sustaining up to 450°F, but there are high-quality pellet grill models that can go well into 600°F.
Gas grills can manage to heat up to 500°F. Higher-end gas grills can step it up to 700°F.
However, while they can be hot enough to sear meat, it may be difficult to control at lower temps, with cheaper gas grills struggling to maintain as low as 250°F.
Cooking Options
The pellet grill is diverse as it has the abilities of a grill, charcoal smoker, and oven all packed into one! It can also smoke meat low and slow, grill burgers and sausages, and bake pies and cakes.
The gas grill can compete with the pellet type for versatility in cooking, but it might need some readjusting and modifications. If you're looking for a versatile grill, either will work fine.
Flavor
Wood pellet grills have a huge advantage in taste, with a wide range of wood pellet flavors to choose from!
The smokey hints are very similar to foods cooked on a charcoal grill. Gas grills, however, do not deliver the smoke flavor promise as the fuel is generally clean and flavorless.
Unless you decide to put extra wood chips or a smoker box, you might be left with cooked food made delicious by seasonings only. Pellet grills do great wonders as smoking wood pellets result in amazing flavors!
WINNER: Pellet Grill
Run Time
Run time will depend on how long the cooking process is, how much fuel is consumed, and the amount of temperature needed to cook food.
Normally, pellet grills take about an hour to consume one pound's worth of wood pellets. 2 pounds/hour if a higher temperature is required.
This means a 20-pound bag of wood pellets is equivalent to, more or less, 20 hours of total run time and 10 hours if under high heat.
The same thing applies to gas grills. A 20-pound propane tank is equivalent to around 20 hours on a normal cook.
How much fuel is needed depends on how high the cooking temp will be, no matter what type of grill.
Ease of Use and Convenience
The wood pellet grill may be easy to use, but cleaning up after a cookout might say otherwise.
Wood pellets burn and produce ash, which may ruin the grill and cooking surface if left untreated! They need to be vacuumed out regularly every 2 to 3 cooks.
It's also important to keep the cooking area clean by covering it with aluminum foil.
Cleaning up the gas grill isn't as time-consuming as it's easier to scrape off excess fat, residue, and carbon from the inside of the grill.
There is no need to clean it as often as pellet grills have to be. However, both grills require deep cleaning once a year for a much smoother run.
WINNER: Gas Grill
Pricing
The gas grill's price range is lower, considering it's found everywhere.
Low-end or secondhand grills cost around $150, while high-quality gas grills are a different story, being sold for thousands of dollars.
The average price of a basic pellet grill started at $500, but as competition increases within the market, some are now being sold for as low as $350.
But it is justified since most of these are electric grills, after all. If affordability is what you need at first buy, the gas grill takes the cake!
WINNER: Gas Grill
Safety Features
Most gas grills have few safety features that regulate the flow of the fuel and heat control.
Unfortunately, this is where the list ends. All the responsibility lies upon the user to prevent fatal incidents such as large-scale fires and explosions.
Pellet grills are mostly fully modernized and designed to be safe for cooking, which means lesser risk of flare-ups and open flames. It's obvious which type of grill has the most features when it comes to safety.
WINNER: Pellet Grill
Accessories
A good gas grill comes with a vast range of cooking equipment such as the smoker box, extra grill grates, rotisseries, and more!
A pellet type may get the same experience, but you may have to buy them separately in most cases. While it lacks accessories, it makes up for high-end smart features.
Some of the latest models are already WiFi- and Bluetooth-ready for a better cooking process! It depends on how much one can make the most out of the accessories, physical or digital.
Popular Brands
For high-standard pellet grills, Traeger and Z Grills are our recommended brands.
Traeger is the father of all pellet grills, having mastered their unmatched quality through the years.
Traeger Ironwood 885
Z Grills, a recently established brand, offers reliable pellet-type models at a much lower price.
Backyard Warrior 7002C2E
Meanwhile, there are many gas grill brands to choose from that promise buyers with the best performance, so we'd like to recommend you two of the most popular ones.
Weber sets the standard in terms of quality and performance.
Genesis S-435 Gas Grill
Char-Broil is perfect for buyers with a tight budget and can compete with Weber quality-wise.
Char-Broil 463375919 Performance Stainless Steel 4-Burner Cabinet Style Liquid Propane Gas Grill
Looking for one brand that offers more grill-type options? Pit Boss manufactures both gas and pellet grills, and they even have a hybrid grill with elements from both of them combined.
Pit Boss Mile Hybrid Pellet Smoker/Gas Grill
Cost of Use
A gas grill only needs gas as a source, either in a propane tank or a natural gas line.
Natural gas flow is always consistent, whereas propane tanks depend on the size of the grill, temperature and cooking time. Nowadays, with so much happening around the world affecting our economy, gas prices have become higher than in previous years [1].
So, if you're going for gas grills, you might need to spend wisely! With pellet grills, buying fuel doesn't have to take much money. Smoking pellets are sold online and in-store for as low as $7.
Electricity is also needed - the average rate in the U.S. as of 2022 is 13.72 cents per kWh.
Are Pellet Grills a Healthier Option?
There are concerns from health experts over particles from burned wood chips and charcoal briquettes containing carcinogens, which can lead to cancer.
They may even seep into the food cooked on gas or charcoal grills!
Wood pellet grills are supposedly healthier than those grill types, but wood pellets can still produce carcinogenic byproducts; the risk will be considerably less. If you're leaning towards the pellet grill, you may need to contemplate this advice first.
Which is the Better Option For You?
Between the pellet grill vs. gas grill, pellet grills have higher standards that even gas grills can't compare.
However, gas types work best for exploration and experiments with food, further enhanced with extra accessories. It's been a hard time for us picking the right grill. So, we have summed everything up into a bulleted list for those choosing between the gas or pellet grill.
Buy a Gas Grill if You:
• Prefer cooking up quick and easy meals for everyone
• You are into grilling a very high heat sear
• Have a limited budget
• Like a more reliable grill
Buy a Pellet Grill if You:
• Prefer slow-and-low cooking while spending quality time
• Have a higher budget
• Want advanced features
• Long for a safer experience
FAQ
Here are the most frequently asked questions about the topic!
1. Do Pellet Grills Take Longer to Cook?
Pellet grills don't take longer to cook if the cooking area has been preheated before use.
Like gas grilling, smaller foods like hot dogs are cooked for short periods. The cooking length will be longer when it's time to smoke meat.
2. Can You Cook Burgers on a Pellet Grill?
Yes, you can cook burgers on a pellet grill, but the outcome will differ between gas and charcoal grills.
While burgers cooked on gas fuel or charcoal have a crisp appearance and distinct spots, ones cooked on pellets are rendered equally. They also come with a natural smoke flavor.
Conclusion
Everyone has different experiences and opinions about gas vs. pellet grills. What matters is how far you could go with either and that the choice is up to you!
After sharing all the features we have given you, we can all agree that they're much better than all the charcoal grills combined. Our grilling pros hoped this guide has helped you in choosing the perfect grill!